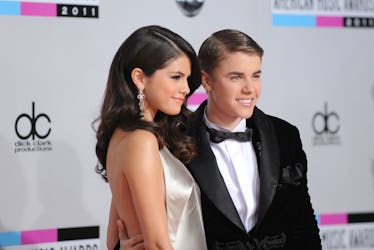 Twitter Can't Stop Making This One Joke About Selena Gomez & Justin Bieber
Jason Merritt/TERM/Getty Images Entertainment/Getty Images
If anyone is raising an eyebrow at Justin Bieber and Selena Gomez seemingly spending all of their free time together — I totally understand. While I'm not sure what the two singers have up their sleeves, there is one musical artist that is definitely benefiting off their reunion. It seems that virtually everyone on Twitter who is invested in Jelena's status is quoting "New Rules." Justin Bieber and Selena Gomez memes that include Dua Lipa's song are seriously lit AF.
If you didn't know the British singer before, you definitely do now. She is relatively new on the music scene, but has definitely gained tons of popularity with her song "New Rules." People love it because it's so, so relatable.
It's basically rules that she uses to help get over an ex. To be specific, those exes who are tough to get out of your head because they always seem to linger. Yes, we've all been there. According to Genius Lyrics, the song says in verse one,
My love, he makes me feel like nobody else, nobody else
But my love, he doesn't love me, so I tell myself, I tell myself
For anyone who is in or has been in that situation, it sucks. However, it is the chorus that's been getting the most attention surrounding Justin Bieber and Selena Gomez's sudden reunion. Dua Lipa lays out three rules to follow to get over your ex. The chorus sings,
One: Don't pick up the phone
You know he's only callin' 'cause he's drunk and alone
Two: Don't let him in
You'll have to kick him out again
Three: Don't be his friend
You know you're gonna wake up in his bed in the morning
And if you're under him, you ain't gettin' over him
If you've been following the Jelena saga, you probably realized that Gomez has basically broken all three rules.
To catch anyone up who needs it, Jelena could be re-emerging from 2015, but there's no confirmation about any of it, which is even more confusing.
The duo dated on-and-off from 2009 to 2015. However, for the past 10 months, Gomez was seemingly very happily dating The Weeknd (real name Abel Tesfaye). At first, they seemed like a weird match, but they proved to be so, so cute. About a week ago, People reported that multiple sources came forward claiming the couple ended their relationship, despite the millions of supporters and cheerleaders they gathered as a duo.
One insider claims it was the attention and travel their independent careers demanded that caused the drama. The source said,
She [Selena] and Abel have been going back and forth for a few months about their relationship. It's been hard with him being on tour and her shooting in New York. That wasn't easy on them.
The news came in the midst of Gomez and Bieber spending a lot of time together. It's suspect AF. As you read above, Dua Lipa would probably have major problems with what Gomez is doing. SELENA, IT'S JUST THREE SIMPLE RULES TO FOLLOW. I mean, we're just trying to help.
Needless to say, Twitter is in a frenzy with comments about Dua Lipa, Bieber, and Gomez.
If you don't honor the "Dua Lipa Code," you're out.
I could scroll through tweets about Dua Lipa all day long.
In summary, just follow Dua Lipa's three rules. JUST DO IT.
Overall, Twitter lives and dies by Dua Lipa and her "New Rules." I'm here for it. How else will we learn to not pick up the phone? SO SIMPLE BUT SO HARD.
As for Selena Gomez and Justin Bieber, I'm not sure what the heck they're up to. Their bike-riding and lunch-eating can only go on so long before we're going to need a real explanation. I'M READY NOW FOR ONE NOW, THOUGH.
Check out the entire Gen Why series and other videos on Facebook and the Bustle app across Apple TV, Roku, and Amazon Fire TV.