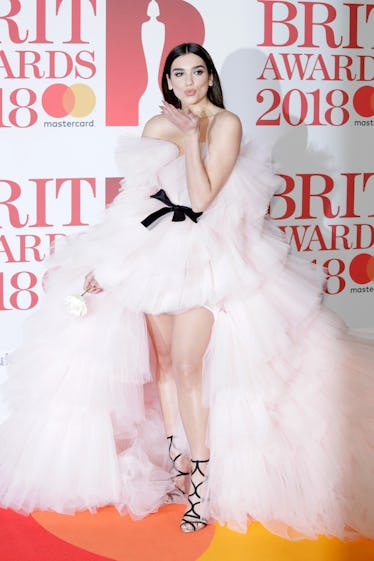 Here's How To Pronounce Dua Lipa, If You Weren't Actually Sure
John Phillips/Getty Images Entertainment/Getty Images
You probably know all three of her "New Rules" by heart. (One, don't pick up the phone...) But do you know how to say her name? The unique moniker is definitely a little confusing the first time you see it, so here's how to pronounce Dua Lipa, in case you weren't really sure. You say it like this: Doo-Ah Leep-Ah. So pretty, right? Oh and get this — Dua Lipa is actually the pop star's real name, and it means love, which is just so, so sweet!
But even so, the singer wasn't always down with the name. "My parents are originally from Kosovo, and 'dua' means love in Albanian," she explained to designer Patrizia Pepe, whose advertising campaign she stars in. "It kind of took me a while growing up to really appreciate my name. Growing up in London and going to school in London, I just wished I had a normal name."
I totally feel this! My mom decided to stick two Es on the end of my name when I was born, and not one person has ever spelled it correctly in my entire life. Plus, I could never find a single toothbrush or keychain or fake mini license plate in any souvenir store with my name on it, which was always such a bummer.
Still, at least no one really messes up the pronunciation of my name — a problem Dua seems to have quite often. "It normally happens when I check into places and they give me a visitor card," she told ABC Radio. "I've had Doopah Loopah — that's always a great one. Or Deepah Leepa. Those both have happened, and my band loves to mention that over and over again!"
Even so, it's clear that Dua is currently having a moment, and I'm pretty sure most people will know how to say her name correctly by the year's end. Not only is "New Rules" now the go-to post-breakup, female empowerment anthem, but in December, Dua was named the most streamed woman of 2017 in the UK by Spotify, and she recently took home two Brit Awards – for British Female Solo Artist and Breakthrough Act.
She's also set to perform at the 2018 Billboard Music Awards on May 20, and I seriously cannot wait to see her own that stage — kind of like she recently owned one of her Twitter followers who tried to take her down for breaking rule number one (you know... don't pick up the phone) of the singer's own "New Rules."
What happened was this: Dua had just split with her rocker boyfriend, Paul Klein, and she apparently wasted no time texting her ex, chef Isaac Carew. Now, IMHO, texting isn't technically the same thing as picking up a ringing telephone, like the old school version shown above in Dua's "New Rules" video. But I guess "don't pick up the phone, you know he's only calling 'cause he's drunk and alone" could also be construed to mean "don't physically pick your phone up off the table to message your ex back when he's drunk dialing you." It's not a perfect fit, but I can see how some fans might extrapolate the rule to cover texting, so I'll allow it.
Anyway, the good people over on Twitter had a field day with Dua's apparent rule-breaking. "Sis," one of them tweeted at Dua. "You broke the new rules."
"Sis," Lipa tweeted back. "Get a grip."
Yes, queen! Dua later spoke about the incident with The Guardian, explaining that pop music should be taken lightly. "It has to be fun," she said. "You've got to enjoy it. You can't get upset about every little thing."
So true. Just ask Regina George, the original three-rule maker and breaker. After dictating in the movie Mean Girls that members of her girl squad couldn't wear tank tops two days in a row, couldn't wear their hair in a ponytail more than once a week, and could only wear jeans or track pants on Fridays, she showed up to lunch in sweatpants on a Monday. And this is what she had to say when her friends called her out on it:
Exactly. So let's just all let Dua Lipa live now, OK?