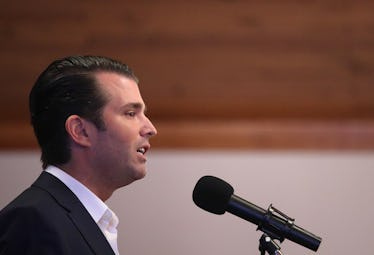 Donald Trump Jr.'s Response To Michael Cohen's Guilty Plea Has Been Fascinatingly Low-Key
Win McNamee/Getty Images News/Getty Images
On Nov. 20, President Donald Trump's legal team announced he'd submitted his written answers to FBI Special Counsel Robert Mueller, who is investigating possible collusion between Trump's 2016 presidential campaign and Russia. But just nine days later on Nov. 29, Michael Cohen, Trump's former personal attorney, pleaded guilty to lying to Congress during one of its many investigations into the matter. Representatives for Cohen declined to comment to Elite Daily on the subject. While the president lashed out over the drama on Thursday, his eldest son Donald Trump Jr.'s response to Cohen's guilty plea has been all but nonexistent.
Both Ivanka Trump and Donald Trump Jr. have stayed remarkably quiet on the Cohen deal on social media since the news, with the first daughter tweeting mostly about the G20 summit in Argentina. The president's eldest son, on the other hand, has stuck mostly to retweets in the past few days, and there may be good reason that he's kept quiet about this situation.
The court filing of Cohen's plea on Thursday stated that Cohen admitted to lying to the Senate Intelligence Committee during his testimony by saying that discussions regarding a deal to build a Trump Tower in Moscow had ceased in January 2016. He admitted Thursday that they actually continued into June 2016, well after the 2016 presidential election cycle had gotten underway and Trump Sr. had been named the presumptive Republican nominee. He also said that he'd briefed Trump Sr. and his family members about the progress. Neither the White House nor the Trump Organization responded to Elite Daily's request for comment on the matter by the time of publication. Now, the first family is faced with the question not just of what might happen to the president, but to his kin, if it's determined that Trump or his children were less than truthful in their responses under oath.
In particular, the two eldest Trump children, Ivanka and Trump Jr., are reportedly raising interest due to their possible involvement in earlier stages of projects with Russia. Neither the Trump Organization nor the White House replied to Elite Daily's request for comment on the subject.
Also of interest could be Trump Jr.'s own testimony to Congress in 2017, in which he reportedly said that while he was aware of the Moscow project his knowledge was "peripheral." Trump Jr. was appointed by his father, along with his brother Eric, to helm the family business while his father is in office, and has worked closely on the real estate projects as a company employee for years. However, Trump Jr.'s Senate testimony involved questioning about two separate deals with Russians, only one of which is at issue in Cohen's plea, as Washington Post reporter Philip Bump pointed out.
CNN reports that a source familiar with the matter says that the Trump children were aware of the project but that the description of a peripheral involvement is "100 percent accurate."
Over the summer, Alan Futerfas, Trump Jr.'s representative, had defended the discrepancy between Cohen's initial timeline (which held that talks ended in January) and his client's in a statement to CNN:
Donald Trump Jr. has been professional and responsible throughout the Mueller and Congressional investigations. We are very confident of the accuracy and reliability of the information that has been provided by Mr. Trump Jr., and on his behalf.
As of writing, though, Trump Jr. hasn't directly addressed Cohen's latest version of events, which extends the timeline of the deal through June 2016. It's unclear whether Trump Jr. has sat for an interview with Mueller in addition to his appearance before Congress, or if any of his testimony is at odds with either his father's answers under oath or Cohen's testimony conveyed. But per CNN, a House Intelligence Committee report notes that "Trump Jr. testified that, as of early June 2016, he believed the Trump Tower Moscow project was dormant."
However, the Moscow Trump Tower isn't the only one that could be looming over Trump Jr. As former federal prosecutor Renato Mariotti told Elite Daily in an interview back in August, Trump Jr. may also be at serious legal risk for his role in the Trump Tower meeting in June 2016, when he and other top campaign officials met with Russian nationals on the premise of getting "dirt" on Hillary Clinton. Though President Trump has consistently denied any advance knowledge of the meeting, it's still a tricky legal situation. If any part of Trump Jr.'s congressional testimony is found to constitute making false statements to Congress, this would violate federal law. As of November 2018, neither Trump Sr. nor Trump Jr. have been officially accused of or charged with any crime.
But one things sure: As of now, it's not clear what, if any, problems Cohen's or Trump's statements now on the Moscow project will eventually lead to for Trump Jr. So it's not surprising if he'd rather sit this one out and lay low.