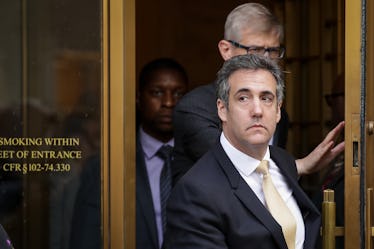 Michael Cohen Pleaded Guilty To A Charge In The Russia Probe, Which Is Major
Drew Angerer/Getty Images News/Getty Images
I don't know about y'all, but TV political thrillers have nothing on 2018. By now, we're all familiar with the ongoing investigation between President Donald Trump and Special Counsel Robert Muller, but it looks like things are heating up even more. As of Thursday, Nov. 29, Michael Cohen pleaded guilty to lying to Congress, and the reason might surprise you. The office of the special counsel confirmed Cohen's charges and plea in an email to Elite Daily, but didn't offer an additional comment. Elite Daily also reached out to Cohen's representatives for comment, but did not hear back in time for publication.
On Thursday, Nov. 29, The New York Times reported that President Donald Trump's former lawyer, Michael Cohen, pleaded guilty to making "false statements to Congress" regarding plans for a Trump Tower deal in Moscow, Russia, during the 2016 presidential election. Although the Trump Tower deal was never finalized, this Russian real-estate plan has been a key topic of interest to Mueller's investigation in finding out whether the Trump campaign actively colluded with Russian operatives during the election, as it could establish that Trump had a financial interest in Russia at the time. The White House did not immediately respond to Elite Daily's request for comment on Cohen's plea deal.
During his initial testimony to the Senate Intelligence Committee, Cohen made numerous false claims about the real-estate negotiations, according to his statement in the plea deal. Among them, he told Congress that attempts at securing the deal ended in January 2016, when in reality they extended into the summer of that year, when Trump was known to be the presidential nominee. He also told Congress that there had been no contact with the Russian government regarding the project, while in his plea statement he admitted he had spoken to the office of the press secretary for the President of Russia. Cohen's sentencing will take place on Wednesday, Dec. 12
According to The Times, this plea marks the first time the special counsel office has charged Cohen, who reportedly made the deal in exchange for a lighter sentence. In August, Cohen pleaded guilty to eight counts of financial fraud as well as admitting to paying Stormy Daniels and Karen McDougal, two women who claim to have had affairs with President Trump, "at the direction of the candidate," which might implicate Trump. Elite Daily previously reached out to the White House for comment on the statement but did not hear back. Despite Cohen's testimony, Trump and the White House have repeatedly denied the affair allegations.
The sentencing for Cohen's August plea was set to take place in two weeks. So, even though this new guilty plea may be a shock to all of us, it might help Cohen out quite a bit. However, this is clearly bad news for Trump, who already has quite a bit on his plate at the moment dealing with Cohen's past plea as well as all the drama surrounding his former campaign manager, Paul Manafort.
In August, Manafort was found guilty on eight counts of bank and tax fraud, which is already a lot. Then, during his second trial in September, where he was charged with alleged conspiracy against the U.S. and alleged conspiracy to obstruct justice, Manafort took a plea deal with Mueller in exchange for a more lenient sentence. However, this political saga didn't stop there, because on Monday, Nov. 26, The Hill reported that Manafort violated his plea deal because he reportedly "lied on a variety of subject matters," according to a federal court's filing. Representatives of Manafort did not respond to Elite Daily's request for comment.
I don't think I'm alone when I ask: what is the truth? Now that Cohen has pleaded guilty to lying during his testimony, and Manafort has allegedly violated his plea deal by lying as well, it looks like Trump's team is slowly started to crumble.
If I were Cohen, I'd stick to the truth from now on. I guess we'll just have to wait and see how this all unfolds.