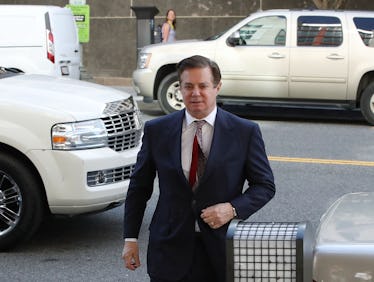 Paul Manafort Has Reportedly Taken A Plea Deal On Felony Charges In His Second Trial
Mark Wilson/Getty Images News/Getty Images
Former chairman of President Donald Trump's 2016 campaign Paul Manafort has taken a plea deal, according to a court filing on Friday, Sept. 14. Per reports, Manafort reached a plea deal with FBI Special Counsel Robert Mueller, who is heading the investigation into possible ties between the Trump campaign and Russia. The plea deal comes as preparations were underway for a trial later this month, where Manafort was scheduled to appear to face charges of alleged conspiracy against the U.S. and for alleged money laundering. Elite Daily reached out to a lawyer for Manafort and to the office of the special counsel but did not immediately hear back.
In the court filing released Friday, Manafort is charged with two counts: alleged conspiracy against the U.S., which includes alleged money laundering, failure to register as a foreign agent, and tax fraud, among others; and alleged conspiracy to obstruct justice, specifically, witness tampering. CNN reported Friday that Manafort had agreed to cooperate with the special counsel, presumably indicating that these charges against him would be dropped.
Manafort's September trial was set to hear a whittled-down version of the charges against him after prosecutors moved to streamline the case. Manafort, in a separate trial in August, was found guilty of eight counts of bank and tax fraud, and a mistrial was declared for 10 other counts at issue in that trial. Manafort, 69, built a career as a political consultant and foreign lobbyist; at issue now is his work with Ukrainian nationals.
Rumors of a possible plea deal between Manafort and Mueller were first reported on Thursday, and the deal was confirmed on Friday morning.
Manafort appeared in court in a 11 a.m. ET hearing Friday, Sept. 14. Initially, this was set to be a pretrial hearing for the trial, but on Friday morning was officially changed to an arraignment and hearing for a plea agreement.
At the arraignment, Manafort pleaded guilty to two charges in an agreement that included cooperating with the Mueller investigation and the possibility of appearing as a witness in the investigation.
The filing released Friday, called a superseding criminal information, shows that Manafort, in reaching a plea deal with prosecutors, is potentially giving up more than just his trial. He's potentially going to forfeit his properties and financial accounts, and CNN reports that his cooperation also mean he'd be giving up the rights to his story and the right to make any money off it, such as through a movie or book.
But in exchange for his cooperation and plea, he's also potentially getting a more lenient sentencing. According to the terms of the tentative plea agreement, the cap on his total time in prison is set at 10 years, but it's reportedly expected that he will attempt to lower this sentence.
It wasn't previously known whether Manafort would cooperate with Mueller, but his cooperation could give the special counsel a wealth of information regarding the president's campaign work and any possible collusion or illegal activity with Russia leading up to the 2016 election. Sources initially told ABC Thursday that prosecutors were pushing for a plea deal that didn't include any cooperation.
Mueller's team has already netted multiple Trump insiders who've agreed to cooperate in the investigation: former campaign aides George Papadopoulos and Rick Gates, as well as Trump's former personal attorney Michael Cohen.
As for whether the former campaign chairman, already facing years in prison, would seek a presidential pardon, no such discussions have taken place between Trump or Manafort's legal teams, BuzzFeed Legal Editor Chris Geidner reports.
It remains unclear what Manafort may have to offer the special counsel about Trump, and what that may lead to. It's also up in the air what the plea deal and cooperation agreement might mean for Manafort's eventual sentence. But one thing is certain: The Mueller investigation is anything but over.