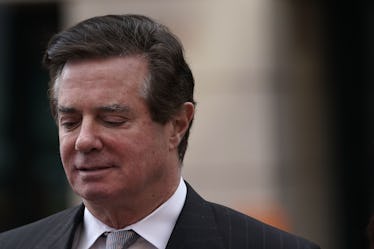 Paul Manafort Allegedly Violated His Plea Deal, So Buckle Up
Alex Wong/Getty Images News/Getty Images
Bad news for Paul Manafort: FBI Special Counsel Robert Mueller is accusing him of lying to federal prosecutors even after agreeing to a plea deal. Elite Daily reached out to representatives of Manafort for comment, but did not immediately hear back. If you remember, he reached a plea agreement with Mueller, who is leading the investigation into potential collusion between Russia and the 2016 Trump campaign, back in September in which he would give prosecutors information that could help the investigation. But he hasn't been totally truthful, Mueller alleges, which violates his plea agreement. So, what will happen after Paul Manafort allegedly violated his plea deal, you ask? TBH, it's not looking so good for him.
According to The Hill, Mueller shared a federal court filing on Monday, Nov. 26 that asked the judge to schedule a date for sentencing. Under the plea agreement, Manafort, who once served as President Trump's campaign chairman, was expected to spend no more than 10 years in prison on charges of alleged conspiracy against the U.S. and for alleged money laundering. In a separate trial in August, he was found guilty of eight counts of bank and tax fraud, and a mistrial was declared for 10 other counts involved in that trial. But because Manafort allegedly lied "on a variety of subject matters," according to the filing, that sentence may be about to get a lot longer. The special counsel's office declined to comment on the filing to Elite Daily, including in regards to what Manafort allegedly lied about and what repercussions he may be facing.
The full scope of what, exactly, Manafort allegedly lied about or hid is unclear. Officials said that those details will be revealed in a later filing ahead of Manafort's sentencing, per The Daily Beast. But The Guardian reported on Nov. 27 that he allegedly had secret conversations with WikiLeaks founder, Julian Assange, inside the Ecuadorian embassy in London just months before WikiLeaks published leaked emails of Democratic figures which had been hacked by Russian operatives. Manafort reportedly saw Assange in 2013, 2015, and 2016 — at the time he was "a key figure in Trump's push for the White House." In a tweet, WikiLeaks called the story's claims false, and representatives of Manafort did not immediately respond to Elite Daily's request for comment. Former federal prosecutor Renato Mariotti noted in a series of tweets that if Manafort had foreknowledge of the hacks and lied about it to investigators, he could be considered an accessory to a crime.
Manafort's attorneys, however, are already pushing back against the claims, saying that their client believes he's been forthcoming and does not agree with the government's assertion that he violated his plea deal. "He believes he has provided truthful information and does not agree with the government's characterization or that he has breached the agreement," they said in a filing. "Given the conflict in the parties' positions, there is no reason to delay the sentencing herein, and he asks the Court to set a sentencing date in this matter." Representatives for Manafort did not immediately respond to Elite Daily's request for additional comment.
Back in August, Manafort was convicted by a Virginia jury on eight counts of bank and tax fraud stemming from his work as a political consultant in Ukraine. Faced with a second federal trial in Washington D.C., Manafort pleaded guilty to one count of conspiracy against the United States and one count of conspiracy to obstruct justice by witness tampering, and agreed to cooperate with Mueller in September. With the new development, however, Manafort may not be considered a credible witness anymore, even if he provided key information into the Russia probe.
Manafort is expected to be sentenced in the Virginia case in February 2019, where he could face up to 80 years behind bars, which is essentially a life sentence given his age. As for the D.C. case... something tells me that sentence won't be pretty either. Stay tuned.