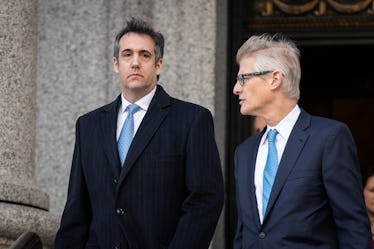 Michael Cohen's Latest Guilty Plea Could Spell Trouble For Donald Trump
Drew Angerer/Getty Images News/Getty Images
The FBI investigation into possible collusion between Russia and 2016 presidential campaign of Donald Trump took a drastic turn on Thursday. Michael Cohen, a former personal attorney to the president, pleaded guilty on Nov. 29 to lying to Congress about the Russia investigation — an admission that could have profound implications for the future of the investigation and its targets. Elite Daily reached out to representatives of Cohen for comment, but did not hear back. Here's what Michael Cohen's latest guilty plea could mean for Donald Trump and Special Counsel Robert Mueller's ongoing investigation.
On Thursday, Cohen admitted to lying to the Senate Intelligence Committee about the timeline of making a deal for a Russian Trump Tower to be built in Moscow, and the court filing shows that the project had continued to be discussed well into the 2016 campaign and that he had personally briefed Trump on it. Neither Cohen's representatives nor the White House had responded to Elite Daily's requests for comment about the guilty plea as of publication. If Cohen's statements are true, this could imply that Trump had an active financial interest Russia at the time he was the presumptive Republican party nominee, and or that he was aware of a deal.
As for Mueller's investigation, the fact that Cohen has now pleaded guilty twice potentially suggests that he's got valuable information that could be very useful to the special counsel, but what the eventual outcome is remains far less clear. Cohen had already pleaded guilty once to eight counts of financial fraud in August in a New York case, and his attorney on Thursday signaled he would continue to cooperate with Mueller in exchange for a lighter sentencing. "There can be no doubt that Cohen is cooperating with Mueller, and it looks like he's providing useful information," tweeted former federal prosecutor Renato Mariotti Thursday.
Cohen's plea also comes on the heels of Trump submitting written answers to Mueller's questions for him in the Russia investigation on Nov. 20. As many are already pointing out, the timing is likely not coincidental, as having both sets of accounts gives the special prosecutor a way to compare notes. If Cohen contradicts what Trump said — under oath — in his answers to Mueller, that could spell very bad news for the president: If Trump's answers to Mueller under oath are proven demonstrably false, it leaves the president open to accusations of perjury. As of Nov. 29, the president has not been officially accused of or charged with any crimes.
Though a sitting president can't be indicted in accordance with current Justice Department protocol, Mariotti told Elite Daily in an interview in August, that it doesn't mean Trump won't be implicated in other legal battles. Cohen earlier this year said that Trump had had advance knowledge of the June 2016 meeting at Trump Tower, in which members of the Trump campaign met with Russians promising "dirt" on opponent Hillary Clinton. Trump has repeatedly denied advance knowledge of the meeting, including in his written answers to Mueller. Elite Daily reached out to the White House for comment regarding Cohen's claims, but did not hear back. If that's proven false Trump may have violated numerous laws, including accepting help from a foreign government during an election.
While Trump himself might be off the table for indictments, "his son [Donald Trump Jr.] is fair game," Mariotti told Elite Daily, given his involvement at the meeting and in setting it up. And if that happens, "the president could be named as an unnamed co-conspirator in that indictment" against Trump Jr., he says.
It's never a good thing when your former attorney is flipping on you.
More to the point, it wasn't exactly great news for Trump and his legal team before this second guilty plea. As Mariotti [told] told me in response to Cohen's first plea deal: "It's never good news when your client's former lawyer is pleading guilty to a felony, particularly one that involves your client," he said. And as for Trump: "It's never a good thing when your former attorney is flipping on you." So now that Mueller has Cohen as a (potential) cooperating witness? There's no telling what could happen.
Besides legal ramifications, the other way the Cohen plea could be damaging to Trump is if it prompts further political action. The Democratic-ruled House is already gearing up for renewed investigations into the Russia issue when it takes power in 2019, and apparently, Democrats are already flagging this as a thread to take up in January. CNN's Manu Raju reported Thursday that incoming House Judiciary chairman Rep. Jerry Nadler said that Cohen's plea agreement "raises serious questions about what the Russian government has over Trump." Nadler reportedly added that Congress would investigate it, and that it could raise the possibility of impeachment pending the findings of that investigation. Importantly: The chamber has the power to subpoena the president. As of November 2018, there have been no major moves to impeach the president.
While those outcomes remain unknown, Trump is apparently not thrilled with the fact that his former attorney has pleaded guilty a second time. Outside the White House on Thursday, just after the news of Cohen's plea broke, Trump reportedly called him a "weak person" and claimed Cohen was lying in order to get a reduced sentence. The White House did not immediately respond to Elite Daily's request for additional comment on his statement.
As of today, the final report to be issued by Mueller is still up in the air. And it's not guaranteed that the report will be made public immediately, if ever, thanks to new leadership at the Justice Department. But all eyes are closely on the investigation now, and it's clear that Mueller is not done yet.