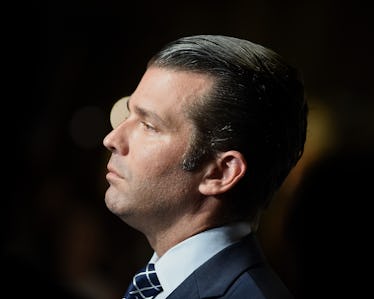 Donald Trump Jr. Could Face Some Consequences For The Trump Tower Meeting
Shannon Finney/Getty Images Entertainment/Getty Images
President Donald Trump and his son Donald Trump Jr. are back in headlines amidst the president's tweets this week about the FBI's investigation into possible collusion and Russian meddling in the 2016 presidential election. Specifically, the infamous meeting between Russians and Donald Trump Jr. in June 2016 has raised questions of what the interaction might mean for the first family all over again. So can Donald Trump Jr. get in trouble for the Trump Tower meeting? According to a former federal prosecutor, the eldest Trump son might be at legal risk.
The Trump Tower meeting was first reported in July 2017, and in a statement at the time reportedly dictated by the president himself which was confirmed by Trump's lawyers in June 2018, President Trump and his team claimed the purpose of it was to discuss U.S. adoption of Russian children. But on Aug. 5, 2018, Trump himself countered that, tweeting that the meeting actually had been about getting "dirt" on his opponent, Hillary Clinton.
That's where Trump Jr. could be at most legal risk, former federal prosecutor Renato Mariotti, who is not involved in any legal proceedings against Trump or Trump Jr., tells me in an interview for Elite Daily.
Federal law prohibits campaigns from accepting any sort of help or support from foreign governments in elections — which could include damaging information on an opponent that the campaign wouldn't otherwise have access to or would have to go to great lengths to obtain. Trump Jr. made clear he was willing to accept the Russian's offer of help, and that's where he could face a mountain of trouble.
To be clear, neither Trump Sr. or Trump Jr. have been accused or charged with any crimes in relation to the meeting. But in regards to the senior Trump, Mariotti says that given what's publicly known of the situation, the potential crimes at play include accepting support from a foreign government in an election; knowingly receiving stolen goods (if the information was obtained through illegal means); and unauthorized access to a server (hacking), even if they did not participate directly in it. Mariotti thinks that Trump Jr.'s willingness to go along and take steps towards those potential crimes could suggest that he's liable for conspiracy or aiding and abetting.
"There's some evidence out there that [Trump Jr. was] involved in activities that at the very least suggest that he has some criminal liability," Mariotti says. Elite Daily reached out to the Trump Organization for comment, but did not immediately hear back.
Last month, Trump's former personal attorney Michael Cohen told CNN that the president not only had advance knowledge of the Trump Tower meeting, but approved it ahead of time. In Trump's Aug. 5 tweet, Trump denied knowing about the meeting. Elite Daily reached out to the White House for further comment, but did not receive a response.
Whereas the public doesn't know for sure what the president knew about the meeting and when — it's Cohen's word against Trump's at this point — Trump Jr. was actually present for the meeting, and there's already evidence, as Jr. himself has shown us, that he agreed to its terms ahead of time.
Whether the president is at risk legally is a separate ballgame. But that doesn't mean Trump Jr. is off the hook.
Mariotti says that Trump Jr. could be indicted in Special Counsel Robert Mueller's investigation into possible collusion between the Trump campaign and Russia, but it's too soon to tell. Mariotti is confident, though, that Mueller will attempt to interview or subpoena Trump Jr. as the investigation progresses.
"If I represented Donald Trump Jr., I would tell him that he should feel no comfort whatsoever from the fact that he has not yet been interviewed by Mueller," Mariotti says. "It could very well mean that Mueller is gathering evidence and is going to wait to question him until he's fully prepared to do so."
Whether or not he's indicted, the fact that Trump Jr. is ensnared by the larger investigation should be concerning for him, Mariotti says.
"Whenever you're under federal criminal investigation, that's a very bad thing for you," Mariotti explains. "It's like you're running in the woods and a sniper's trying to shoot you. Maybe the sniper's going to miss, maybe he's going to hit, maybe he won't pull the trigger because he doesn't get a clean shot. But it's never a good thing. There's always danger."
Beyond the initial potential criminal exposure, as Mariotti points out, the Trumps' public statements might have lined up the possibility of future legal risk for them. For example: Trump Jr. testified before Congress in May about the meeting and indicated that his father didn't know anything about it. If it comes out that Trump Jr. lied under oath, that's its own crime. And Mariotti says this could be the cleanest "shot" a prosecutor like Mueller could take to bring him down.
And as the tweeting continues, it's worth bearing in mind that Trump Jr.'s own statements about the meeting can be used against him, and depending on the circumstances, his father's statements can be, too, Mariotti says.
It's too early to know what other evidence might be out there about Trump Jr.'s legal exposure, whether Mueller would bring charges against him, and if so, when. But just because he hasn't seen anything yet, it doesn't mean Junior is out of the woods.