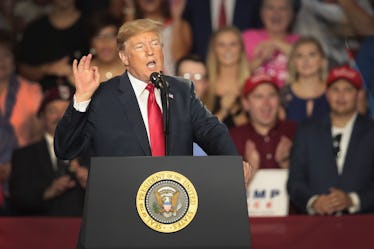 Donald Trump's Tweets About The Trump Tower Meeting Could Spell Trouble For Him
Scott Olson/Getty Images News/Getty Images
President Donald Trump has been busy on Twitter rehashing the infamous meeting from June 2016 involving his son Donald Trump Jr. and a group of Russian nationals. In a tweet on Sunday, Aug. 5, Trump said that the purpose of the meeting was to seek damaging information about his opponent Hillary Clinton, and the apparent admission has made heads spin in Washington and beyond — even bringing up questions of the president's legal vulnerability. But whether Trump can get in trouble for the Trump Tower meeting is no easy question to answer.
"Fake News reporting, a complete fabrication, that I am concerned about the meeting my wonderful son, Donald, had in Trump Tower," the president wrote in a Sunday morning tweet. "This was a meeting to get information on an opponent, totally legal and done all the time in politics - and it went nowhere. I did not know about it!"
Trump's claim that he didn't know about the meeting is in line with repeated denials from him, his legal team, and his son Donald Jr. But this denial conflicts with a CNN report stating that his former personal attorney, Michael Cohen, claimed Trump knew about the meeting in advance, which he again denied. According to follow-up reports from Politico, Cohen said that not only did the president know about it, he also OK'd it. Elite Daily reached out to the White House for further comment on Cohen's claims but did not immediately hear back.
Importantly, Trump's admission that the meeting was "to get information on an opponent" is also a complete reversal from his July 2017 statement, which claimed that the meeting's purpose was to discuss the Magnitsky Act and a subsequent law involving U.S. adoptions of Russian children. The Washington Post at the time reported that Trump himself had dictated the statement.
At issue is whether the tweet Sunday — and subsequent tweets from Monday — will have bearing on the ongoing investigation by FBI Special Counsel Robert Mueller into whether there was obstruction of justice or meddling in the 2016 U.S. election.
Former federal prosecutor Renato Mariotti, who is not involved in any of the legal proceedings against Trump, tells Elite Daily that the statements from Aug. 5 and 6 aren't helping the president's case any — in fact, they're "really problematic" for the president.
Mariotti has several questions in his own mind about why Trump's story has changed from his previous statements to his Sunday tweet. "If he really had nothing to do with the Trump Tower meeting, then why was he so intensely interested in it? Why did he go out of the way to dictate a statement regarding it?" Mariotti asks. Secondly, "What independent knowledge did [Trump] have about it? If he already knew about it, why did he go through the effort to deceive?"
Finally, Mariotti says, whether or not Trump did know about the meeting, what he might have told Donald Jr. is important. He says,
Either way, what did [Trump] tell his son? That they needed to tell a different story or keep his story straight, or that they both needed to say that it was about adoptions? It obviously suggests that he knew what they were doing was wrong, contrary to his statement yesterday.
There are a few potential crimes for which Mariotti thinks the Trump Tower meeting could result in charges. The first, Mariotti says, is accepting help from a foreign government for an election by taking information (presumably, info which the foreigners have gone to effort to obtain).
The second crime Mariotti sees as a potential charge is knowingly receiving stolen goods that have crossed national or international boundaries. These are usually tangible objects, but could be information, too, as people pay for opposition research, polling data, etc.
Finally, the third crime Mariotti sees is unauthorized access of a server ("hacking") — for which Mueller has already indicted a dozen Russians. Even if Trump's team didn't directly do any hacking, they could be liable for aiding and abetting or conspiracy — essentially, taking action to advance a crime with another party. "You don't need to know everything involved in the conspiracy, all you need to do is have some role in it ... to be liable," Mariotti says. "The fact that a crime wasn't completed doesn't matter."
To be clear, Trump has not been accused or charged with any crime in relation to the meeting — but that hasn't stopped the public from speculating.
So, the question of whether Trump knew about the meeting and its purpose, and when he knew, are big questions. If the president approved the meeting knowing he would be getting information from a foreign government, it would open him up to that legal vulnerability of conspiracy or aiding and abetting.
Mariotti adds: "It's never a good thing when your client knows about a crime while it's being committed."
Knowing about the meeting in general could also come back to bite Trump if it comes out that his son Donald Trump Jr. was misleading in his testimony to Congress in May 2018, when he said he didn't think his father knew about the encounter.
In any case, the reality that Cohen and Trump are claiming different things isn't a good sign. "The fact that there's another person out there disputing what the president is saying is a huge problem," Mariotti adds. "As for Trump, it's never a good thing when your former attorney is flipping on you."
Unfortunately, the Aug. 5 tweet wasn't the only one Trump's legal team had to worry about. On Monday, Aug. 6, the president continued to comment openly on an ongoing investigation pertaining to him, something that Mariotti says most attorneys would never let fly with their clients.
"Hillary Clinton and her team 100% colluded with the Russians," Trump tweeted Monday, "and so did Adam Schiff who is on tape trying to collude with what he thought was Russians to obtain compromising material on DJT ... Collusion is very real with Russia, but only with Hillary and the Democrats, and we should demand a full investigation."
Mariotti says Trump's tweets fly in the face of his earlier position that there's nothing wrong with seeking "dirt" on a political opponent, or colluding itself. He adds that if this were a legal position Trump and his team were taking in a trial, it wouldn't fly. You can't have your cake and eat it, too.
While Trump's tweets don't necessarily mean that Mueller or anyone else will charge the president with a crime, Mariotti says they're concerning for a defense team. "If I were the president's attorney I'd be very upset," he says. "A lot of what [Trump is] saying could create problems down the road, depending how the facts develop."
As far as the Mueller investigation goes, Mariotti sees it taking a few months at least. The tweet from Aug. 5, he says, isn't a make-or-break-it statement, but it's not nothing, either. "It's a tab in [Mueller's] exhibit binder," he says.