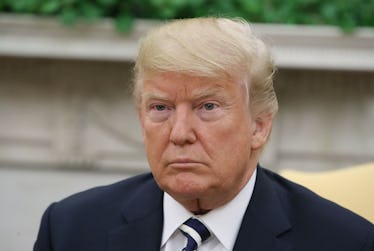 Donald Trump's Latest Tweet About Collusion Is Both Ironic & So Badly Timed
Mark Wilson/Getty Images News/Getty Images
The president has impeccable timing when it comes to his Twitter account, and his latest public address is pretty dang ironic. On Tuesday, July 31, Donald Trump tweeted about collusion as the first trial from the Russia investigation started — and it'll make you scratch your head.
Seriously. This is what the tweet says: "Collusion is not a crime, but that doesn't matter because there was No Collusion (except by Crooked Hillary and the Democrats)!"
Wait, what? So... there wasn't any collusion, but even if there was, it's not considered a crime? I'm at a loss for words on this one, guys.
Let's take a step back and discuss why Trump even tweeted about collusion in the first place. On Monday, July 30, the president's lawyer Rudy Giuliani talked about collusion when he was asked about Paul Manafort's trial on CNN. While speaking of Manafort's trial — which began on Tuesday, July 31 — Giuliani said:
[Manafort] was not involved with intimate business relationships with Donald Trump. Four months, they're not going to be colluding with Russia, which I don't even know if that's a crime, colluding about Russians. You start analyzing the crime — the hacking is the crime. [...] The President didn't hack.
Well, President Trump cleared up Giuliani's curiosity about Russian collusion with his tweet, saying that "collusion is not a crime."
His tweet (and Giuliani's statement about collusion) comes at an extremely ironic time. As stated above, Paul Manafort — Trump's former campaign chair — went to trial in Alexandria, Virginia on Tuesday, July 31 on charges of alleged money laundering and bank fraud. He is charged with 18 violations of banking laws and tax violations, per CNN. Elite Daily reached out to a representative for Manafort for comment on the charges and the debut of his trial, but did not immediately hear back.
According to NPR, witnesses are being called that the defense says will prove Manafort allegedly spent money that he earned illegally. He is reportedly accused of purchasing luxury items (like Persian rugs, Land Rovers and Mercedes-Benz vehicles, landscaping fees, and more) with money he allegedly hid from the government and failed to pay taxes on. While the trial doesn't directly have to do with Russian meddling in the 2016 election, the charges against Manafort came out of the investigation led by special counsel Robert Mueller into possible collusion between Russia and the Trump campaign.
However, although though Manafort was Trump's former campaign chair, his trial for alleged money laundering will probably not mention his role in the 2016 presidential election. Per CNN, Kellyanne Conway addressed the situation via Fox News on Tuesday morning, and stated,
The judge has very strictly instructed no mention of Paul Manafort's role in the Trump campaign, no mention of Trump, Russia or collusion. This trial obviously centers on matters that have nothing to do with the campaign.
Even so, it's a little ironic that Trump tweeted about collusion not being a crime the morning of his former campaign chair's trial.
According to CNN, Manafort's trial is predicted to last a total of three weeks. If Manafort is found guilty, he could face a maximum sentence of 305 years in prison.
I have no doubt that Trump will keep the country updated throughout the trial via his Twitter account. Out of all of his tweets so far, though, his July 31 announcement about collusion is definitely one for the books.