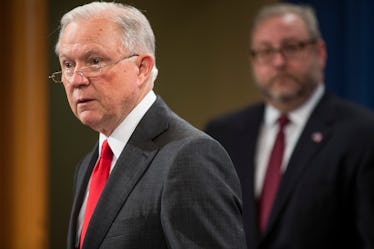 Here's What Could Happen To The Russia Investigation Now That Sessions Has Resigned
Zach Gibson/Getty Images News/Getty Images
Attorney General Jeff Sessions, who's overseen the Justice Department (DOJ) since President Donald Trump took office, handed over his resignation — apparently demanded by Trump himself — on Wednesday, Nov. 7. The shakeup in the nation's law enforcement branch could have far-reaching implications across Washington, including the ongoing investigation being led by Special Counsel Robert Mueller. As for what will happen to the Russia investigation after Sessions' resignation, it's not a promising scenario.
Mueller, who's been leading the probe into possible collusion between Trump's presidential campaign and Russia since Trump fired former FBI Director James Comey in May 2017, will now be overseen by the man taking over the DOJ, Matthew Whitaker. Mueller's investigation would normally been overseen by the attorney general, but Sessions recused himself from the probe back in March 2017 on the grounds that he'd campaigned with Trump in 2016; Deputy Attorney General Rod Rosenstein took over responsibility in his place. As Whitaker has not recused himself, he seems primed to take over: The DOJ did not reply to Elite Daily's request for comment on the subject, but a spokesperson reportedly told CBC that "The Acting Attorney General is in charge of all matters under the purview of the Department of Justice" on Nov. 7.
However, Whitaker's appointment is raising concerns regarding how he may direct the Russia investigation: he's been described as a "Trump loyalist" and has publicly made clear his disapproval of the Mueller investigation, writing in a CNN op-ed in 2017 that it was "going too far."
Whitaker could take steps to cut off blood flow to Mueller's investigation in a few ways. Former federal prosecutor Renato Mariotti, in a Twitter thread, wrote that "Whitaker could severely burden, restrict, or even remove Mueller." Because Mueller was brought in under special regulations, per The New York Times, it would be harder for Whitaker to fire Mueller, but he could use other workarounds to disable the investigation. First, he could slash the budget to choke off the staffing needed to complete it. Second, Mueller is answerable to Whitaker for his reasoning for pulling legal levers, such as issuing subpoenas, and Whitaker has the power to overrule them. Finally, the new acting attorney general would also get final say on whether Mueller's eventual report of his findings would ever see the light of day, and could quash it at his discretion.
However, Mariotti pointed out, given there were multiple probes at play, it would be difficult to tamp down all of them.
As of Thursday Nov. 8, CNN is also reporting that Mueller has begun writing up his final report for the investigation, per sources. Whether and when the report will be seen by the public, that remains unclear, as does what it might contain; however, the House could subpoena this information. Former federal prosecutor Elie Honig writes for CNN that "House Democrats will have the ability to compel production of evidence and to hold public hearings on any unresolved issue that might have fallen under Mueller's purview," though it's not clear their legal demands would be successful.
Trump has been a vocal critic of Sessions since he recused himself —saying that doing so was "extremely unfair" to him — so Wednesday's shakeup comes as little surprise. But it's unusual that Trump has exercised his authority to leapfrog over others in line to the AG seat. Normally, in the event of an attorney general leaving, the chain of command says that deputy attorney general takes over (that would've been Rosenstein).
According to the Times, the president appears to be relying on a legal loophole that allows him the discretion to appoint another senior department official to helm the organization, without Senate confirmation. (This is despite another law that specifically defers to the chain of command for vacancies in the DOJ.) As to why Trump chose not to tap Rosenstein for the role, it may have something to do with the president's ongoing feud with Rosenstein as well, including accusing him of conducting a "witch hunt" in reference to the Mueller investigation.
The timing of Sessions' ouster is also raising suspicion. The move came just hours after Democrats took back the House in the 2018 midterm elections, meaning they will soon have the power to subpoena Trump and reopen the House Intelligence Committee's investigation in the same ties between Trump and Russia. CNN reports Trump's Chief of Staff John Kelly told Sessions that the move had to happen on Wednesday and couldn't wait until the week's end. The White House did not immediately respond to Elite Daily's request for comment on the report.
With these implications, the move to replace Sessions with Whitaker has sparked massive concern across Twitter especially, with the hashtags #ProtectMueller and #TrumpIsNotAboveTheLaw getting pickup. And a mass protest, called Nobody Is Above The Law, is slated to take place in locations across the country at 5 p.m. local time Thursday in response. As of writing, there are over 900 sister marches planned.
So are Mueller's days numbered? Well, he's clearly not wasting any time.