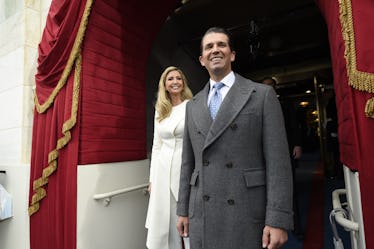 Here's Why Eyes Are On Ivanka & Donald Trump Jr. After Michael Cohen's Guilty Plea
Pool/Getty Images News/Getty Images
In a moment of high drama on Thursday, Nov. 29, Michael Cohen, Donald Trump's former longtime lawyer and fixer, pleaded guilty to lying to Congress about the president's knowledge to build a Trump Tower in Moscow. Representatives for Cohen and the White House did not return Elite Daily's request for comment on the subject. The admission sent shockwaves around the nation, and now eyes all falling on the president — and also his kids. That's right: Ivanka and Donald Trump Jr. might've been involved in Trump Tower Moscow. Representatives for Ivanka and Donald Jr. did not immediately return Elite Daily's requests for comment.
On Thursday, sources told Yahoo News that FBI Special Counsel Robert Mueller is looking into the role of the Trumps in their efforts to secure the Trump Tower Moscow deal. The two reportedly worked on those efforts for years before ending them in 2013 — just three years before the 2016 presidential election. "They were not looking at any other deals after that," a source told the outlet.
The news came just hours after Cohen pleaded guilty to making "false statements to Congress" regarding the proposed deal. Among them, Cohen told Congress that the effort to build Trump Tower Moscow ended in January 2016, although Cohen later admitted in his plea deal that in fact they extended into the summer of that year, when Trump was the presumptive presidential nominee. He also initially told Congress there hadn't been any contact with the Russian government in regards to the plans, which Cohen later admitted to be false. Cohen is due for sentencing on Dec. 12.
Ivanka and Donald Jr.'s efforts were independent of Cohen's, Yahoo News reported, but both reportedly knew of Cohen's plans in 2016. "Michael was looking at that deal," the source told Yahoo. "Don and Ivanka knew about it and Don testified to the Senate Judiciary Committee that he was peripherally aware of it."
"That's why we're so perplexed Cohen would lie about briefing them because no one's ever disputed that they knew he was looking at it," the source reportedly added. Representatives for Ivanka and Donald Jr. did not immediately return Elite Daily's requests for comment.
Either way, the Russian real estate news is a bombshell break in Mueller's longstanding investigation into the 2016 Trump presidential campaign's potential ties to Russia. Cohen's revelations indicate that the president did in fact have financial interests in Russia while a presidential candidate, and that people close to the president were speaking to high-level Russian officials during his campaign. Representatives for the White House did not return Elite Daily's request for comment. Also, as many have pointed out, the timing could spell trouble — only days before Cohen's plea, the president submitted written responses to questions in the Mueller investigation, which were made under oath. If Cohen's evidence contradicts the president's answers, it could put Trump in legal jeopardy.
In the meantime, the president himself has repeatedly criticized the probe and those involved. The same day as Cohen's plea, he even issued some fiery words regarding his feelings on the latest situation. After clarifying the deal by telling reporters it was a "well known" project that he decided "not to do," he slammed Cohen, telling reporters that the former lawyer was a "weak person." Elite Daily reached out to the White House for comment about Trump's remark, but did not hear back.
He doubled down on his efforts the next day, Nov. 30, tweeting that the plans were "very legal & very cool," before calling the probe a "Witch hunt!" (Again.)
We'll see what Mueller churns up. Stay alert.