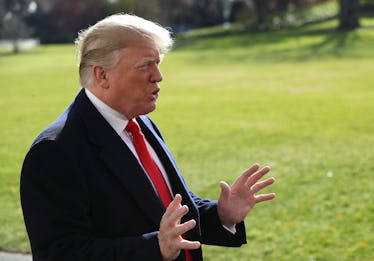 Donald Trump Got So Petty In His Response To Michael Cohen's Latest Guilty Plea
Win McNamee/Getty Images News/Getty Images
In case you haven't heard, there's been a whole new development in this ongoing political saga between Special Counsel Robert Mueller and President Donald Trump. On Thursday, Nov. 29, Trump's former lawyer, Michael Cohen, pleaded guilty to lying to Congress, which is huge. Well, obviously, the president had a few thoughts to share about the news, and Donald Trump's response to Michael Cohen's guilty plea is so petty, but not surprising. Elite Daily reached out to the White House for comment about Trump's remark, but did not hear back in time for publication. Elite Daily also reached out to Michael Cohen's representatives for comment about the plea deal at the time, but did not hear back. The special counsel office confirmed Cohen's charges and plea but didn't offer an additional comment.
On Thursday, Nov. 29, Trump spoke to reporters in regards to Cohen's guilty plea and what he thinks of the situation. At first, Trump clarified the Trump Tower real-estate deal in Moscow, Russia, at the center of the plea deal by stating it was a "well known" project that he decided "not to do." Then, he went on to talk about Cohen's plea deal, and proceeded to call him a "weak person" who's trying to reduce his sentence by discussing the real-estate negotiations. I don't know about y'all, but feels like a little bit of a cat fight.
Although Trump's response to Cohen's plea deal may be a little immature, it's not completely unwarranted. After all, it took everyone by surprise when Cohen pleaded guilty to "making false statements to Congress" on Thursday, Nov. 29. According to The New York Times, Cohen made false claims during his initial testimony with the Senate Intelligence Committee while discussing plans to pursue a Trump Tower deal in Moscow, Russia, during the 2016 presidential election. In his plea statement, he admits that he mischaracterized when the deal ended, and that negotiations were ongoing even after Trump became the presumptive presidential nominee, and that he spoke with Russian officials about the deal. Although the deal was never finalized, this topic has been of interest of Special Counsel Robert Mueller, who is currently investigating whether the Trump campaign team actively conspired with Russian operatives during the election, as it could provide evidence that the president had a financial interest in Russia while a candidate.
This may be an exciting development in the ongoing Trump-Mueller saga, but it isn't the first time Trump has blasted Cohen for pleading guilty. In August, after Cohen pleaded guilty to numerous counts of financial fraud, Trump decided to air his frustrations on his favorite social media platform: Twitter. So, on Aug. 22, Trump took to Twitter to tell the public that if anyone is "looking for a good lawyer," perhaps Cohen isn't the one to call. Petty. Elite Daily reached out to Cohen's team and the White House at the time regarding Trump's tweet but did not hear back.
Trump may not be the biggest fan of Cohen's at the moment, but it appears that the president may still have faith in his former campaign manager, Paul Manafort. According to a Nov. 27 report from The Times, Manafort and Trump's lawyers have reportedly been talking about the Mueller probe, which is a big deal. Elite Daily reached out to representatives of Manafort and the White House for comment about these reports at the time, but did not hear back. So, even though Trump may not have necessarily have Cohen on his side any longer, who knows what will unfold from this news.
Don't touch that dial, because the drama is only getting juicier.