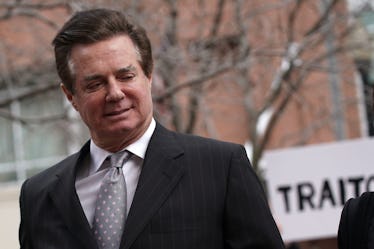 Manafort Has Reportedly Been Filling In Trump On What He Told Mueller, Which Is Wild
Alex Wong/Getty Images News/Getty Images
Things aren't looking so good for Paul Manafort right now. On Monday, Nov. 26, FBI Special Counsel Robert Mueller, who is investigating Russian meddling in the 2016 election, alleged that Manafort had breached his plea agreement and lied to investigators. Representatives for Manafort did not respond to Elite Daily's request for comment at the time, and the special counsel's office declined to comment. More drama emerged on Nov. 27 — according to The New York Times, Paul Manafort and Donald Trump's lawyers have reportedly been talking about the Mueller probe, which might be the sketchiest turn yet. Elite Daily reached out to representatives of Manafort and the White House for comment, but did not immediately hear back. The special counsel's office declined to comment to Elite Daily at the time.
To rewind ever so slightly, Manafort reached a plea deal with Mueller back in September, in which he would offer up details that could help the Russia probe. He pleaded guilty to two conspiracy charges and was expected to spend no more than 10 years in prison. However, reportedly, Manafort's lawyer Kevin Downing has been keeping Trump's legal team in the loop about those discussions ever since. For example, Downing reportedly shared that investigators had been questioning whether Trump knew about the June 2016 Trump Tower meeting where Russians offered damaging information about Hillary Clinton to his campaign associates. Downing did not immediately reply to Elite Daily's email requesting comment on the situation.
Although the alleged conversations are reportedly not illegal, the Times called them "highly unusual." The report suggests that the lawyers for Manafort, who previously served as the president's campaign chairman, may have shared the information in hopes of scoring a presidential pardon for his client.
The news comes just a day after Mueller submitted a federal court filing alleging that Manafort had breached his cooperation agreement, accusing him of lying to investigators. The special counsel's office declined to comment on the filing to Elite Daily, including in regards to what Manafort allegedly lied about and what repercussions he may be facing. The Guardian followed up with a report that Manafort had secretly met with WikiLeaks founder Julian Assange shortly before the outlet published leaked emails of Democrats that had been hacked by Russian operatives, which WikiLeaks denied via tweet. If Manafort knew of the leaks in advance, experts say, it could make him an accessory to a crime. But Manafort strongly denied the claims, saying in a statement shared with the Times that the report is "totally false and deliberately libelous." Representatives of Manafort did not respond to Elite Daily's request for comment.
Manafort will be sentenced on two conspiracy charges and eight counts of financial fraud, which could carry at least 10 years in prison. In a separate trial in August, he was found guilty of eight counts of bank and tax fraud, and a mistrial was declared for 10 other counts involved. In that case, he could face 80 years in prison.
Despite the latest drama, Manafort's lawyers have maintained that their client did nothing wrong. "He believes he has provided truthful information and does not agree with the government's characterization or that he has breached the agreement," they said in a filing. "Given the conflict in the parties' positions, there is no reason to delay the sentencing herein, and he asks the Court to set a sentencing date in this matter."
Trump, on the other hand, has gone on the attack of the investigation and Mueller, calling him a "conflicted prosecutor gone rogue" who is carrying out a "Phony Witch Hunt" in a Nov. 27 tweet.
On Nov. 15, he said the investigators involved in the probe "have gone absolutely nuts," writing:
The inner workings of the Mueller investigation are a total mess. They have found no collusion and have gone absolutely nuts. They are screaming and shouting at people, horribly threatening them to come up with the answers they want.
Looks like there's a lot to discuss in the next conversation, huh?