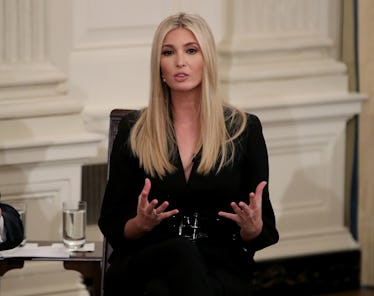 Ivanka Trump Tweeted About Something Totally Off-Topic After The Michael Cohen Plea
Mark Wilson/Getty Images News/Getty Images
On Thursday, Nov. 29, President Donald Trump and his family set off from Washington for the G20 summit in Argentina. But the departure came at a critical moment: Michael Cohen, Trump's former personal attorney, had just pleaded guilty on charges of lying to Congress and agreed to cooperate in the investigation into possible collusion between Russia and the Trump campaign. Despite the bombshell, Ivanka Trump's tweet after the Cohen plea indicates that first daughter, unlike her dad, is keeping attention on the global economic summit.
Donald Trump on Thursday responded to the news that his former "fixer" had pleaded guilty by calling Cohen a "weak person" and a liar. Elite Daily reached out to the White House and Cohen's team for comment but did not hear back by the time of publication. But his daughter appears to be trying to keep the message on-point by sticking to talking about Argentina.
"On the way to #G20Argentina!" Ivanka Trump tweeted Thursday following the Cohen news. "I look forward to meeting with global thought leaders and engaging in dialogue around one of @g20org's agenda priorities: the future of work — to ensure our workers receive the training and education they need to succeed." Elite Daily reached out to the White House for comment on Ivanka's tweet Thursday but didn't hear back at time of publication.
Cohen on Thursday had pleaded guilty to charges brought by the office of Special Counsel Robert Mueller to lying to the Senate Intelligence Committee about his timeline of work to secure a deal for a Trump Tower in Moscow. The court filing signals that the effort to make a Moscow deal continued well into the Trump 2016 presidential campaign, much later than was previously indicated, and referenced the president and his family.
"How's individual 1 holding up?" one user tweeted in reply, referring to Cohen's Thursday admission and the filing which seemingly referred to the president as "Individual 1." The White House did not respond to Elite Daily's request for comment regarding the subject. "Kinda wondering if you have a good lawyer," tweeted another.
Ivanka Trump has come under fire since her father took office over her eponymous clothing and jewelry brand, which was subsequently dropped by several major retailers after the #GrabYourWallet movement pressured consumers to boycott her products. After a year of bad press, Trump announced in July that she'd be shutting down her clothing line altogether. In a statement to Elite Daily, a person familiar with the matter confirmed that Ivanka's decision to close the brand was based on her continuing to puruse her political career and uncertainty about the future of her role in the fashion industry.
Though it's the second time Cohen has pleaded guilty to federal prosecutors, it's a first for this investigation and for Mueller specifically. In Thursday's court filing, Cohen also implicated the president, saying he'd "briefed family members of Individual 1 within the company about the project" in regards to his work on the Trump Tower deal. The White House did not immediately reply to requests for comment on the matter. Though it does not identify those family members by name, the Trump children have held and continue to hold high positions in both the Trump Organization and in his 2016 presidential campaign. This suggests that Ivanka Trump and her siblings could potentially be legally vulnerable depending on what they knew about any illegal activity and when.
Adding to the heat, Ivanka has also come under scrutiny in recent weeks for her use of a personal email for work in her role as an adviser to the president. The White House did not reply to Elite Daily's request for comment on the subject. And while she's out of Washington temporarily, her appearance at the G20 last year didn't go over too well when she got flak for sitting in for her father in a meeting.
While Ivanka seems keen to keep her social media focus on the summit, the president has also taken to Twitter Thursday to air his grievances about the investigation. The president has also canceled the meeting scheduled with Putin and other key world leaders after the fallout from the Cohen drama. For now, though, the entire first family has escaped the Washington pressure-cooker for Argentina. Maybe the international economic summit will be more relaxing.