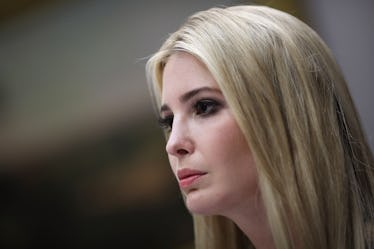 Ivanka Trump Is Shutting Her Clothing Brand & It Could Mean She Has More Political Ambitions
Win McNamee/Getty Images News/Getty Images
Ivanka Trump is saying goodbye to her signature fashion line. Trump stepped down from her self-named women's clothing company after moving to Washington D.C. in 2018 shortly after President Donald Trump resumed office, and in a breaking announcement on Wednesday, July 24, a spokesman from the company confirmed to the The Wall Street Journal that her clothing line would cease production. Why is Ivanka Trump closing her brand? She had a forward-thinking reason.
Trump is stepping out of the fashion world and seemingly digging her heels further into the world of politics. In a statement provided to The Wall Street Journal, Trump cited her budding political career and aspirations as a reason why she is closing up shop on her namesake fashion line.
"After 17 months in Washington, I do not know when or if I will ever return to the business, but I do know that my focus for the foreseeable future will be the work I am doing here in Washington, so making this decision now is the only fair outcome for my team and partners," Trump said in the statement.
Elite Daily reached out to representatives of Trump for comment on if she was planning to run for office or further her political career outside of her current White House role, but did not hear back at time of publication. A person familiar with her decision to close the brand confirms to Elite Daily that it was based on her focus on her current work in Washington and an uncertainty on if she will return to focus on her former fashion industry work.
The first daughter is a senior White House adviser to her father, President Donald Trump. While critics have said it is a conflict of interest for her to profit from her fashion brand while working in the White House, she has not been formally charged or investigated on any ethics charges. With the news of her shutting down the Ivanka Trump Collection, which is based in New York City's Trump Tower, it would appear that she is cutting ties all together with outside business and focusing solely on her work in Washington.
Since her father took office in January 2017, her clothing line has been dropped from several major department stores such as Nordstrom. The Seattle-based retailer cited changing preferences from their customers as the reason for dumping her line less than a month after President Trump was sworn in.
"Each year we cut about 10 percent [of brands carried] and refresh our assortment with about the same amount," a Nordstrom representative said to Business Insider at the time. "In this case, based on the brand's performance we've decided not to buy it for this season."
In July, Hudson's Bay, a leading retailer in Canada, also decided to stop selling Trump's line of shoes, clothing, handbags, and women's accessories. The merchant, which owns Saks Fifth Avenue and Lord & Taylor, said the move was due to the clothing line's "performance" issues, according to the New York Post. Although her brand has been pulled from certain mass retailers stores, her products continue to be sold at Bloomingdales, Amazon, Macy's and other retailers.
It is unclear exactly when the Trump's clothing line will shut down for good, but it the urgency of her statement seems to make it sound like it will be sooner rather than later. All 18 of the fashion company's employees were informed of the decision on Wednesday, July 24, according to CNBC. Trump has 15 years of fashion industry experience under her belt and launched the Ivanka Trump Collection in 2014.