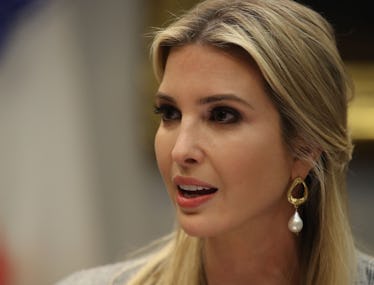 Ivanka Trump's Clothing Line Got Dropped By A Major Chain, So That Sucks For Her
Mark Wilson/Getty Images News/Getty Images
Ivanka Trump might have a widening portfolio when it comes to politics, but the fashion empire she built before earning a spot as a White House adviser just keeps on dwindling. In fact, Ivanka Trump's clothing line got dropped by Hudson's Bay — the leading department store in Canada. It's not the first time a similar situation has happened to the first daughter, but man: it's gotta be pretty saddening news for her.
According to the New York Post, the company will begin phasing out Trump's eponymous fashion line from its 90 stores by the fall. However, many of her items — including shoes, clothing and jewelry — have already been cleared from Hudson Bay's website. But despite whatever you're probably thinking, Hudson Bay says its decision to pull the controversial brand wasn't tied into politics, but performance.
"Hudson's Bay is phasing out this brand through the fall based on its performance. As part of our regular course of business, we review our merchandise offerings and make appropriate changes," the company said in a statement.
At least she wasn't blindsided by the drop, though. According to the Post, Hudson's Bay told Trump of the the decision to yank her brand in 2017, so that's kinda nice.
Unfortunately for Trump, the cancellation is part of a pattern. Several companies have already phased out Trump's products, including Neiman Marcus and Nordstrom. In February 2017, Nordstrom revealed that it had also dropped the brand because of its low performance. A company spokesperson told Fortune, "We've said all along we make buying decisions based on performance. In this case, based on the brand's performance, we've decided not to buy it for this season."
The brand's performance problems might not be just coincidence, though. On May 31, the Trump administration announced its plans to increase tariffs against Canada, which spurred several boycotts in Canada of Trump family products. Trump's brand was also targeted by the #GrabYourWallet campaign in early 2017 after President Donald Trump's inauguration, which was created in response to his comments about "grabbing" women by their genitals during a 2005 conversation with an Access Hollywood host that resurfaced back in 2016. According to Bustle, the mission of the cause was to hit the Trump family in their pockets. And as the campaign became more popular, various retailers either stopped selling Trump's brand or stopped advertising that they carried her merchandise.
Trump has started taking measures to boost her declining sales, like trying out online shopping and even giving her customers exclusive discounts by shopping through her site. But... well you know how those things can go. When the damage is done, it's done.
Trump's brand is at least still available in places like Walmart, Saks Fifth Avenue, Zappos, Macy's, Bloomingdale's, and Dillard's. And as long as she can prevent getting her brand embroiled in controversy, there's still room for her to turn things around.
Then again, that might be easier said than done, so to be on the safe side, any of you loyal Ivanka supporters might wanna get out there and grab what you can while you can. Just sayin'.