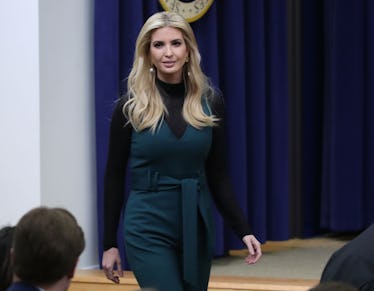 Ivanka Trump Is Trying Out Online Sales After Her Brand Was Dumped By Stores
Mark Wilson/Getty Images News/Getty Images
If you've been anywhere near the internet over the years, you're probably aware of all the struggles that Ivanka Trump's brand has endured. But fortunately for her, there's a new plan that might be able to get things back on track. Ivanka Trump's brand is trying online shopping for the very first time, which is extremely convenient for all of us who hate the hassle of shopping in-store and might help her boost her brand's declining sales.
Since the Ivanka Trump brand site's creation back in 2014, it had reportedly served as a fashion blog where people could check out styling tips, office advice and interviews with influential women. Shoppers could also occasionally purchase handbags and jewelry on the site, but overall, most of the brand's merchandise was only available in certain retailers like Nordstrom, Burlington Coat Factory and T.J. Maxx. That is, until now. As of April 18, shoppers will be able to purchase apparel directly from the site, and will even get a 15 percent discount for doing so, according to Bloomberg.
"We're making it easier than ever for you to shop with us," Trump's website reads. "Starting today, you can browse our latest ready-to-wear pieces directly on out site."
It's an interesting move, given that before Trump became a first daughter, her fashion business seemed to be flourishing. However, in the past 15 months since President Donald Trump's inauguration, it's been plagued with tons of controversy.
In December 2017, for instance, The Wall Street Journal published an article that called Trump a "walking billboard" for her clothing line, finding that 46 out of 68 photos she shared on social media between March and October 2017 showed the White House adviser wearing items from her eponymous line.
"Ivanka Trump is testing the boundaries on federal rules that bar government employees from using their position to promote brands that personally enrich them," Guian McKee, associate professor in presidential studies at the University of Virginia's Miller Center, told the publication.
Her brand was also targeted by the #GrabYourWallet campaign early last year after her father's inauguration. Bustle reported that the mission of the cause was to hit the Trump family where it hurt: their pockets. And as the campaign grew, several retailers either stopped selling Trump's brand or stopped advertising that they carried her merchandise.
One of the most notable companies to stop selling Trump's merchandise was Nordstrom. In February 2017, the clothing giant announced they'd dropped the brand because of its low performance. A company spokesperson told Fortune, "We've said all along we make buying decisions based on performance. In this case, based on the brand's performance, we've decided not to buy it for this season."
But some people were furious with the retailer, especially the president. On Feb. 8, 2017, he took to Twitter to blast the company, saying that his daughter was being treated "so unfairly." He wrote, "My daughter Ivanka has been treated so unfairly by @Nordstrom. She is a great person — always pushing me to do the right thing! Terrible!"
To make matters worse, the same day, The New York Times reported that managers of T.J. Maxx and Marshalls stores had given their employees notes that instructed them to throw away signs for Ivanka Trump products.
Of course, not everyone was feeling the whole #boycottIvanka movement. Bloomberg notes that merchandise is still available at multiple stores, including Walmart, Zappos, Hudson's Bay, Macy's, Bloomingdale's, Dillard's, and Saks Off Fifth outlet stores. So is this move an effort to prop up a failing brand, or just about Ivanka Trump getting in touch with the 21st century love of shopping without leaving your house? Anything's possible in 2018.
Who knows if Trump's online store will be able to increase her sales and turn her brand's misfortune around, but I do know that many of us love a discount. So she's got that going for her.