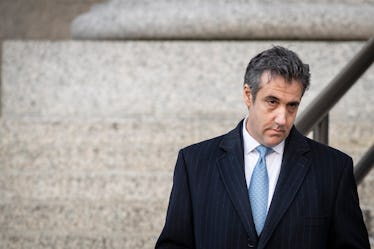 Everyone's Talking About Individual 1 In Michael Cohen's Plea, Because This Is Big
Drew Angerer/Getty Images News/Getty Images
Michael Cohen, President Donald Trump's former attorney, found himself in court again on Thursday, Nov. 29 pleading guilty to a new charge of lying to Congress, this time coming directly from Special Counsel Robert Mueller's investigation into possible collusion between the 2016 Trump campaign and Russia. Representatives for Cohen did not immediately respond to Elite Daily's request for comment. It's pretty wild, and not least because the court documents from Thursday's filings make repeated reference to an "Individual 1." Which begs the question, who is Individual 1 in Michael Cohen's guilty plea? It's kind of a big deal, because it almost certainly looks to be Donald Trump. The White House did not immediately respond to Elite Daily's request for comment on the subject.
In the court documents, special counsel describes the defendant, Cohen, as an "attorney and employee of a Manhattan-based real estate company (the 'Company')." The filing goes on to say that Cohen served as the "Executive Vice President" and "Special Counsel" to the owner of the Company ('Individual 1')." Cohen, as is well known, did serve as Trump's attorney between 2007 and 2017, the timeframe laid out in the filing, and held the roles of executive vice president and special counsel at Trump's business, the Trump Organization. While the document makes no mention of Trump's name, officials confirmed to The New York Times that "Individual 1" is in fact Trump. So, it's not exactly subtle.
In a surprise appearance in federal court on Nov. 29, Cohen admitted to making false statements to the Senate Intelligence committee regarding a deal to make a Trump Tower in Moscow during the 2016 campaign trail, according to the New York Times. Elite Daily reached out to representatives of Cohen as well as the special counsel's office for comment, but did not immediately hear back. The publication also reports that Cohen confessed to playing down "Individual 1's" role in the deal, and asked "Individual 1" about traveling to Russia to meet on the deal — which was something he originally told intelligence he hadn't discussed with Trump. "I made these misstatements to be consistent with Individual 1's political messaging," Cohen said in court. "And out of loyalty to Individual 1."
Following Cohen's plea, Trump spoke to reporters on Thursday to comment on the situation. The president began by talking about the Trump Tower in Moscow deal, which he said was "well known," but he ultimately "decided not to do." Trump then pivoted to Cohen, calling him a "weak person" who's just trying to "get a reduced sentence" by "lying about a project everyone knew about." Elite Daily reached out to the White House for comment about Trump's remark, but did not hear back in time for publication. Trump said,
He was convicted with a fairly long-term sentence on things totally unrelated to the Trump Organization, having to do with mortgages, and having to do with cheating the IRS perhaps. A lot of different things, I don't know exactly. But, he was convicted of various things unrelated to us. He was given a fairly long jail sentence, and he's a weak person, and being weak, unlike other people that you watch. He's a weak person and what he's trying to do is get a reduced sentence, so he's lying about a project that everybody knew about.
Before this new guilty plea involving the Trump Tower in Moscow, Cohen pleaded guilty to tax evasion, bank fraud, making false statements to financial institutions, unlawful corporate campaign contribution, and to making an excessive campaign contribution, and was facing a maximum of 65 years in prison, according to The New York Times.
With the Cohen mess popping up again out of nowhere, a few months after his last court appearance, it's not surprising that "Individual 1" might have been taken aback by the latest update.