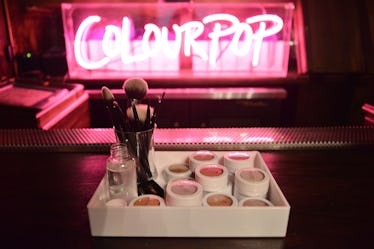 ColourPop Is Practically Giving Away All Their Products At 30 Percent Off For Cyber Monday
Araya Diaz/Getty Images Entertainment/Getty Images
Los Angeles-based makeup brand ColourPop first became known for their inexpensive matte liquid lippies that are basically the cheaper, yet equally as high quality alternatives to many sought-after liquid lipsticks you know and love (i.e. Kylie Lip Kits). Well, four years and a ton of new product extensions, launches, and celebrity collaborations later, the brand is still known for high-quality makeup products at an affordable price. What's even better than the fact that you can now cop ColourPop eyeshadow palettes, highlighters, and brushes, in addition to their OG lipsticks? The fact that ColourPop's Cyber Monday 2018 sale means you can cop their products basically for free.
While you're probably already aware that ColourPop's Black Friday Sale gave you 30 percent off all lip products exclusively on the brand's site, what's equally if not more exciting is that, starting Cyber Monday, Nov. 26, you can shop the ENTIRE site at 30 percent off. And since all of ColourPop's individual products range in price from $5 to $20, you'll be able to snag all the brand's products, like steals from the Zodiac Collection, the Makeup Shayla Collection, the Make-A-Wish Collection, and more beginning at just over $3. The only exception to this sale is the ColourPop x Disney Collection, which will continue to sell at full price.
If the idea of stocking up your beauty vanity or shopping for the beauty lover on your holiday list and having to choose between so many of ColourPop's products sounds overwhelming to you, then you're in luck. I've rounded up the best ColourPop products that you should add to your virtual shopping cart on Cyber Monday.
Foundation
ColourPop's No Filter Natural Foundation is available in 42 shades, and on Cyber Monday, you can buy it for just under $9. The medium coverage foundation is great for easy daytime looks, and it's buildable for a full coverage nighttime look. The best part? If you're not sure which shade to go with, the site gives you the option to match your shade by filling in the shade you typically wear with other brands. And if all else fails, at under $9 a pop, you can buy a few different options for what you'd usually pay for one foundation elsewhere.
Eyeshadow
Just in case you haven't had enough pumpkin-themed things this season, ColourPop's YES, PLEASE! pressed eyeshadow palette offers 12 shades that range from a dark matte brown to a shimmery orange to a matte nude pink — perfect for creating any fall (or winter) lewk.
Powder Highlighters
If you're on the hunt for a pearlized highlighter palette with a high color payoff, then know that ColourPop's Crush On You Palette offers four dreamy shades that will give you the biggest glow-up this season.
Jelly Highlighters
If you prefer the creamy texture of a jelly highlighter over a powder variation, then ColourPop's Jelly Much Shadow will add a stunning, other-wordly shimmer to your cheekbones for practically nothing at all.
Liquid Matte Lipsticks
I love a good nude matte lip, but what I love even more is a nude matte lip that doesn't dry out my lips. Enter: ColourPop's BEEPER Ultra Matte Lip, a rosy nude that dries matte,offers a no-transfer finish, and still leaves lips soft and hydrated after wearing it.
Lip Glosses
No matter how you feel about lip gloss making a comeback, one you see the shiny, non-sticky rose gold shade that this gloss delivers, you'll want to stock up on every shade imaginable.