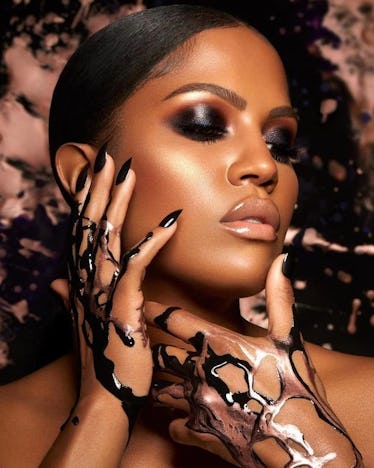 ColourPop Is Dropping A Sick New Makeup Collaboration & Every Piece Looks So Luxe
@MakeupShayla
I'm a fan of many beauty brands, but I'd wholeheartedly say that right now ColourPop is leading the pack when it comes to knowing what their consumers want. The company is known for teaming up with social media influencers, but Makeup Shayla's ColourPop collab is coming to slay us all. Can you say yassss?
One would think that ColourPop's consistent drops would be a bit overwhelming, but they pull it off. I need a bit of variety in my life and I'm not the only one. If you're the type of person that wants to try out the latest trends, but doesn't want to go broke, the affordable brand fits into the budget. Consistently dropping new products keeps consumers on their toes, and by partnering with influencers, they're always changing things up. That's why partnering with vlogger Shayla Mitchell, aka MakeupbyShayla, is the perfect match. One look at her Instagram and you'll wonder how she steps out of the house looking so put together. One would think it's magic, but by collaborating with ColourPop, Mitchell is letting us in on all her makeup secrets.
Her eight-piece collection includes three Lux lipsticks, two new Luster Dusts, a 16-pan eyeshadow palette and the Ultra Glossy lip gloss. These pieces are inspired Shayla's iconic beauty looks, and the best part is that you can mix and match different products in the collection.
The Perception Shadow Palette ($23; colourpop.com) is filled with matte finish colors that highlight a metallic theme. The Lux Lipstick ($7; colourpop.com) comes in shades "C'mon Sis," a soft pink-brown, "Ouuuu!," a warm peach hue and "Quickie," a peachy nude. The Luster Duster ($7, colourpop.com) comes in shades "Pose," a warm copper, and "Boomin," a peachy gold. The Ultra Glossy Lip ($6, colourpop.com) comes in a color called "Neat Freak," which is a champagne color with pink and gold glitter.
Over the past couple of weeks, Mitchell has taken to social media to show off the collection. Instead of just announcing the products, she posted a super high fashion shoot that could have easily appeared in a magazine. The shoot features Mitchell with dark liquid streaming down her hands, a dark and stormy eye look, glossy nude lips, and dark stiletto nails. Besides the fact that the colors look perfect for a night out, I need to know how she got her nails to look that good.
Mitchell continued featuring eye makeup looks on Instagram and YouTube to show her fans how the items look in real life. In fact, she blessed fans with not one, but two YouTube videos. The first video showcases the collection in full with a more glammed up introduction. She also expresses how excited she is for her subscribers to get their hands on the line, and how hard she worked to produce a collection her followers would love.
I'm so excited to announce my collaboration with Colourpop Cosmetics! This collection has all of my go to products and I just know you will love it! Makeup is more than beauty, it's a how we express ourselves, it's an art, and it brings us together. I can wait to see your looks with my collab!
My favorite video, though, is where Mitchell showcases how to go from day to night with these products. Since these are her go-to products, it's nice to see them go from a more everyday wearable look to an amped night out look. Whether you're going on a Bumble date, drinks with friends, or even just a happy hour with your coworkers, the tutorial showcases a look for the everyday makeup lover that has no time for a full beat.
The collection will be available on the ColourPop website come April 27, so you can grab a couple pieces of just in time for your Cinco De Mayo plans.