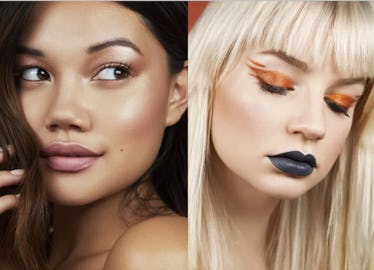 ColourPop Is Practically Giving Away Their Lipsticks At 30 Percent Off For Black Friday
With a slogan like "Beauty that doesn't break the bank," it's pretty much a given that your products are going to be extremely affordable. And when included in a huge sale, they're going to be even more unbelievably cheap. That said, ColourPop's Black Friday 2018 sale is so good that the brand is basically giving products away, so if you're in need of anything makeup-related, I highly suggest you check their offerings out.
Formed only four years ago in Los Angeles, ColourPop is still a relatively new brand. But despite its infancy, it's already carried by major retailers with the likes of Ulta Beauty and Sephora, and has collaborated with Bretman Rock, Disney, and more. What's more, they let their actual fans be the stars of their website (brilliant, if you ask me), encouraging them to tag their photos with #colourpopme for the chance to be featured.
As if that wasn't enough, most of their products range between $5 and $20, and the brand is completely cruelty-free and doesn't test on animals. Seeing as CoverGirl only just announced they were cruelty free this month, ColourPop is ahead of the game. Their products are also good quality and boast colorful packaging that does the brand name justice, and they carry 42 shades of foundation, which speaks volumes in terms of inclusivity.
This all goes to say that if you're going to be putting a major dent in your bank account because of makeup buys on Black Friday, there are a lot of good reasons why they should be ColourPop products. In case you're not sold, read on for details on what exactly the discounts entail.
As first told to StyleCaster, ColourPop's Black Friday sale will actually begin on Nov. 22, 2018, (i.e. Thanksgiving Day), though they've yet to confirm what time the sale begins. The Black Friday sale will specifically offer 30 percent off all lip products through Nov. 23, actual Black Friday. Considering ColourPop's price on lippies is already next to nothing, you can fill up your cart with more lipsticks than you could possibly imagine and probably never go over your budget. StyleCaster reports that the only lippies not included in the sale are the Disney Designer variations, but that doesn't mean there aren't plenty more to choose from — their Creme Lux Lipsticks and Ultra Matte Lips, to name a couple.
On Cyber Monday, Nov. 26, the brand's deals get even better, as you can snag 25 percent off the entire site, according to StyleCaster. That means, eyeshadow palettes, all the shades of ColourPop's No Filter Foundation and Concealer, all your favorite collabs (except for Disney), and even more can be yours for practically nothing. I don't know about you, but I think ColourPop officially made Cyber Monday the best day of the entire year.
Keep your eyes peeled on ColourPop's social media for the exact time their Black Friday sale starts on Nov. 22, 2018. I'd say sorry in advance to your wallet for the amount you'll probably end up spending, but with prices like these, you'll be just fine.