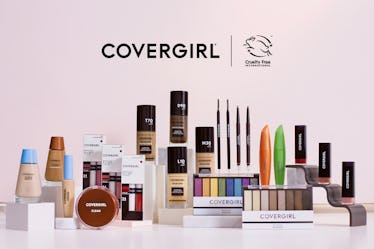 COVERGIRL Is Officially The Largest Beauty Brand To Become Cruelty-Free
COVERGIRL
While it's undoubtedly getting increasingly easier to find beauty products that boast clean ingredients and ethical business practices at high-end retailers like Sephora, run-of-the mill drugstore lines still have a long way to go. But now, the question, "Is COVERGIRL cruelty free?" can finally be answered with Yes, with the announcement that the beauty behemoth has officially become the largest makeup brand to be Leaping Bunny Certified. Next time you're hitting up your local Walgreens or Duane Reade to replace your mascara, you know which section to shop.
To boil it down to the basics, the Leaping Bunny Certification promises that " no COVERGIRL products or ingredients are tested on animals, either by COVERGIRL or its suppliers," according to a press release from the brand. In other words, COVERGIRL has officially completely eliminated animal testing from their supply chain and while it's harrowing that the practice is even still happening at all, this signals a big step in the right direction for the industry. "At COVERGIRL, we believe small steps can lead to big impact, especially in the beauty category," states the brand in the press release. "As an iconic beauty brand, we have the responsibility to drive the evolution we believe is critical to the overall health of the industry."
The certification is awarded by Cruelty Free International, which is the leading organization working to end animal experiments worldwide. They recently teamed up with Coty, the beauty company that owns COVERGIRL, and COVERGIRL's Leaping Bunny Certification was the first accomplishment in what will hopefully a long and game-changing partnership. "It demonstrates how it's possible to be an accessible and innovative brand without inflicting suffering on animals," Michelle Thew, CEO of Cruelty Free International, said in a statement. "We hope today's announcement encourages more cosmetics companies to do the right thing."
Ukonwa Ojo, Chief Marketing Officer, Coty Consumer Beauty, also acknowledges that the move could serve as a much-needed catalyst for the greater beauty industry to become cruelty free." Consumers expect brands to be leaders for positive change so today COVERGIRL is taking a stand about making cruelty free cosmetics a mainstream reality," she said in a statement. "We know we are not alone in wanting a beauty industry that is free from animal cruelty and, working with Cruelty Free International, invite others to join us in turning these conversations into action."
According to Cruelty Free International, at least 115 million animals may be used in experiments worldwide each year, with the leading animal testing countries being the United States of America, Japan, China, Australia, France, Canada, the UK, Germany and Brazil—in that order. If you're shocked by this information, you're not alone. Reading those facts made my heart sink and while it's easy to blame the companies themselves for allowing these practices that exploit living creatures to go on for so long, it's ultimately up to us as consumers to ensure that they stop. Seeing as one of the largest and most iconic beauty brands has gone cruelty free, there's no excuse not to support similarly ethical companies.
Let's keep pushing for progress!