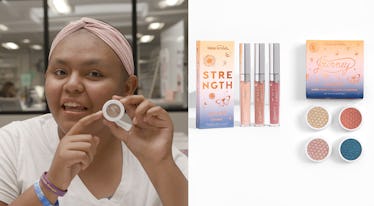 A Brave Cancer Patient Created A Makeup Collection With ColourPop & All The Proceeds Go To Make-A-Wish
Courtesy of ColourPop
In our current world of constant drama and disheartening news, I'm clinging to just about any piece of positivity I can find — and if it just so happens to be beauty-related, well, that's icing on the cake. The ColourPop x Make-A-Wish Collection just happens to be a diamond-in-the-rough piece of good news, so I'm here to hype it up and make sure everyone knows how awesome this new makeup collection truly is.
If you're not familiar with the Make-A-Wish foundation, let me tell you exactly why they're so incredible. Their whole mission revolves around granting the wishes of every child that's been diagnosed with a critical illness, and in southern Nevada, one young girl's wish had to do with her passion for makeup.
During 17-year-old Delilah Juarez's battle with osteosarcoma, she found solace in exploring the world of makeup, which helped to both take her mind off of her struggles and allow her to feel beautiful and strong in her fight. Her wish was to create a makeup line specifically for cancer patients, so others could indulge in the products as both a comfort and an escape from their own sickness. Delilah was wise enough to know that the confidence makeup gave her was something worth sharing — so ColourPop stepped in to help make her dream makeup line a reality.
ColourPop often works with influencers when creating their much-loved products, but working with Delilah was a special opportunity, and she was super involved in the design process:
She carefully chose navy blue and gold packaging and took her time selecting the perfect shades and accompanying names. In total, Delilah and ColourPop have collaborated on four Super Shock Shadows, sold together as a foursome, as well as a Lip Bundle containing one Ultra Satin Lip and two Ultra Glossy Lips.
And clearly, Delilah is a total pro, because the collection turned out gorgeous:
Delilah has an eye for color, and her Super Shock Shadow Foursome ($18, coming soon to colourpop.com) really shows that off. The set includes "DJ," a coppery red named for Delilah's initials; "Okay," a gold with silver glitter that references the word that helped Delilah accept her cancer journey; "Cherish," a warm, golden bronze accented with silver glitter that serves as a reminder to cherish each day; and "Warrior," a teal with turquoise glitter that describes Juarez and the strength with which she has fought against cancer.
The Super Shock Shadow formula is somewhat creamy and super pigmented, so I have no doubt these shades will really pop on the lid:
Along with the shadows are three lip products, which will be sold individually as well as in a bundle. Delilah's Ultra Satin Lip ($7, coming soon to colourpop.com) is in the shade "Wish," a mid-tone peachy beige named after Make-A-Wish as a thank you for making her dream collection a reality. There are two Ultra Glossy Lips ($6 each, coming soon to colourpop.com) to round out the collection: "New Day," a light nude that serves as a reminder that each day is a fresh start, and "JJ," a pinky mauve named after the initials of Delilah's sister.
Delilah's love of makeup and strength in her journey is so palpable throughout her whole collection, and I absolutely need it all now:
The very best part about Delilah's creations? 20 percent of the proceeds from the ColourPop x Make-A-Wish Collection will go directly to the Make-A-Wish Foundation, to help them ensure other kids like Delilah can have their wishes granted. So, basically, this is probably the one time you can actually justify picking up one more product for your already-overflowing makeup collection. Everything launches on Oct. 11, and will be available on the ColourPop site, and you can bet your bottom dollar I'll be buying these for virtually everyone I know.