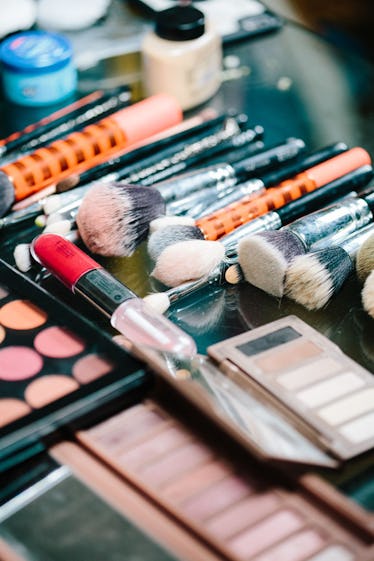 Lipstick Angels Wants To Change The Lives Of Women With Cancer, One Makeover At A Time
kkgas/Stocksy
With the American Cancer Society predicting that nearly 38 percent of all women in the United States are at risk for developing cancer in their lifetime, chances are that many of us will unfortunately be touched by this disease at sometime or another. And those who have witnessed a loved one go through cancer treatment, or have been through the process themselves, are all too aware of how that journey can affect one's body — both on the inside and out. The physical side effects of the disease are quite mainstream, but many still overlook the toll cancer can take on a woman's confidence and self-esteem, which is why the Lipstick Angels were formed.
Launched in March 2012, the Lipstick Angels group was created by makeup artist Renata Helfman after witnessing her grandmother lose her battle with cancer. Noticing what she says were the "devastating results of cancer treatments," Helfman wanted to use her talents, free-of-charge, to help other women who were fighting the disease, but to her surprise, nothing of the sort existed at the time.
Now after only six years in business, the initiative has grown from only operating one, three-hour session a week at Cedar-Sinai's Samuel Oschin Cancer Center in Los Angeles, to now offering the program at various hospitals across California and now at Mount Sinai in New York City. And it's making a world of difference for women who are fighting cancer, as well as their loved ones.
"We had a mother that said with tears in her eyes that today she was not going to hide in the car when picking up her daughter from school — she was going to walk in and get her," Helfman told Elite Daily, recalling one woman's transformation. "I always imagine that little girl and how happy she was too see her mom walk in feeling beautiful and strong. That day changed my idea that we actually help the entire family."
But the Lipstick Angels don't focus solely on makeup. The group also offers complimentary hydrating facials, skincare treatments, hand massages, and aromatherapy at the women's bedside, or while they are getting their chemotherapy infusions. And to protect their clients from exposure to harmful chemicals, all the products the group uses are natural and organic.
"Anyone who has been touched by illness of this magnitude or had a loved one knows it takes a village to help," Helfman says. "I know supporting people physically, mentally, and spiritually significantly impacts their chance of recovery."
That said, Helfman and her crew of Lipstick Angels have no plans on slowing down their amazing initiative any time soon, as the group hopes to continue to expand their reach across the country. "We are looking at a lot of cities but I think Texas might be the next state," the founder exclaims. Helfman also dreams of a future where the team can help women outside of the U.S. as well. "International would be amazing as there is, unfortunately, cancer everywhere," she explains.
Hopefully, that dream will one day come true.