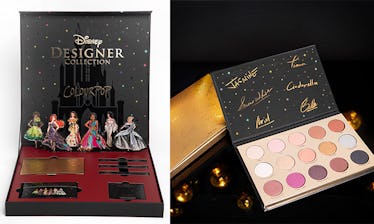 The ColourPop x Disney Makeup Collab Will Delight Your Inner Princess For $20
Courtesy of Colourpop
It seems as though Disney is constantly launching some new collaboration. We've seen Mickey ears splattered on everything from Converse sneakers and sports bras, to comforters and area rugs, but that's not really my thing. Don't get me wrong, I love me some Disney merch, but I'd only really ever wear it if I was at Disneyland. But the latest collaboration is soo good, I could wear it every day. This ColourPop x Disney princesses makeup collection is not only wearable, it makes the inside of your vanity look like all kinds of magical.
The limited-edition Disney Designer Collection is inspired by the magic maker's new Premiere Series dolls. But unlike your ordinary Disney princess dolls, each of these princesses have gotten a grown-up makeover to reflect a different moment in fashion history. Inspired by the '30s, Snow White sports a finger wave in her hair, while '80s Ariel wears a ruffled dress and lace gloves, and '50s Cinderella wears a version of the new look with a diamond choker and fancy chignon in her hair. Between October 6 and November 12, a new princess doll will launch every Saturday online at 12 a.m. PT, and through a lottery at select Disney stores.
The 18-piece collection is made up of dreamy new shades of their cult-favorite items like the Super Shock Highlighter, Ultra Glossy Lip, Super Shock Shadows, Lux Lipsticks, and the Pressed Powder Eyeshadow Palette, all packaged with sketches of the Premiere Series dolls.
The It's A Princess Thing Pressed Powder Palette ($20; colourpop.com) is packed with 15 matte, satin, and metallic shades, inspired by characters and moments from all the princesses journeys. Shade names include "Poison Apple," "Enchanted Rose," "Magic Carpet," "Prince Charming," and "Fairy Godmother." And to make the palette even more special, the inside is decorated with all the princesses' autographs — it's like a Disneyland autograph book, but better.
Each princess is interpreted in her own Lux Lipstick ($7; colourpop.com). "Snow White" is a warm true red shade, "Belle" is a rosy berry, "Jasmine" is a vibrant fuchsia, "Ariel" is a peachy beige nude, "Cinderella" is a cool-toned pink, "Tiana" is a deep oxblood red. In case you can't decide which is your favorite, you can buy them all together in a bundle for $42.
If you're a fan of these super-pigmented, creamy shadow singles, you're going to love the new shades of Super Shock Shadows ($5; colourpop.com). "Heigh Ho" is a white pearl sprinkled with a multi-dimensional glitter, "So This Us Love" is a metallic silvery taupe, "Be Our Guest" is a berry pink with blue and violet duo chrome pigments, "A Whole New World" is an icy lavender with pink, silver, and baby blue ultra glitter finish, "Under The Sea" is a seafoam green with a gold glitter, and finally, there's "Almost There" a deep bronze drenched with silver ultra glitter finish. And just like the lipstick shades, the Super Shock Shadows can be purchased in a bunfle for $18.
Ultra Glossy Lip, $16 ($6 each), Shop Disney
The Ultra Glossy Lip comes in a bundle of three for $16 or $6 each. The shades are adorably named, "Bibbidy" is a clear gloss with highlights of gold and silver glitters, "Bobbidy" a bright peach, and "Boo" a mid-tone rosy pink.
And finally, there's the Super Shock Highlighter ($8; colourpop.com) that makes your cheekbones look like porcelain. There's a soft silvery pink shade called "Part Of This World," and a light gold colled "A Smile And A Song."
As you can see, just like all of ColourPop's products, the Disney Designer Collection is super affordable, and it is bound to sell out fast. Everything will be available on September 28 on the brand's website and at ShopDisney.com.