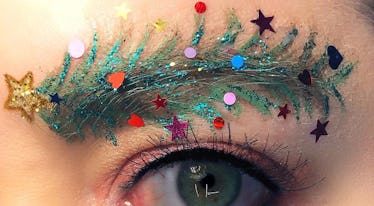 Christmas Tree Brows Are The Latest Festive Holiday Beauty Trend You'll Either Love Or Hate
While hair gurus had their fun crafting Christmas tree hair, it seems beauty lovers are getting in on the action, with the Christmas tree brow trend taking off and bringing holiday cheer to makeup routines everywhere. This viral brow trend is so wildly meticulous and undeniably festive, it's starting to make past bizzare brow trends — think Insta-famous squiggle brows, or arches carved to resemble the Nike swoosh logo — seem ordinary. On one hand, I can't help but wonder, Why?, but on the other hand, I seriously applaud those skilled enough to celebrate the season via their eyebrows. Is trimming your brows the new trimming the tree? Apparently, the answer is yes.
At the time of writing, searching "#christmastreebrows" on Instagram yields just 208 posts, but believe me when I tell you that each photo is more impressive than the next. The more I look at Christmas tree brows, the more positive I am in my belief that the elves at Santa's workshop are likely born with such festive brows, or at the very least, taught how to create said eyebrow masterpieces at a very young age.
Still can't totally image what a Christmas tree brow looks like? Here's one for your viewing pleasure, created by self-taught makeup artist @miaa.makeup:
Mia's take features evergreen brows accented by glittery gold garland and red ornaments, complete with a star at the tail end, as if atop the tree. Honestly, I'm kind of obsessed with it. Give me a Christmas tree brow and a good ugly Christmas sweater and I'm basically the queen of the holiday season, am I not?
Makeup Artist Narissa Cullen, aka @narissamakeupartistry, shared her own interpretation of Christmas tree brows as well:
TBH, her Christmas tree brow is probably one of my all-time favorites, as even though she skipped out on the green, her use of glitter and embellishments — as well as some spot-on liquid liner — earns her major bonus points in my book.
Instagram user @kalon_by_karrie teamed up with a friend to rock this festive makeup look, proving two sets of Christmas tree brows are better than one:
"I'm glad to see the trend popping up again because it was so fun to do," says Karrie, who says it took her about 30 minutes to apply her Christmas tree brow look, complete with glittery stars and present bows.
So, what tools are needed to create Christmas tree brows for your next holiday party? A must-have in my book is the right evergreen hue, for which the Kat Von D 24-Hour Super Brow Long-Wear Pomade ($19, katvondbeauty.com) in shade "Lemmy Green" is absolutely perfect. Accent with some eye-safe glitter via the Urban Decay Heavy Metal Glitter Eyeliner ($20, urbandecay.com) in shade "Midnight Cowboy" as your golden garland, and you've got your tree basics down pat. From there, you can garnish with sequins, rhinestones, or drawn-on ornaments, and make your Christmas tree brows your own. Just as no two brows are exactly the same, no two Christmas trees are identical, so feel free to get creative.
If all goes well, the end result should look something like @rachiecandice's take:
I know that glittery eyeshadow and red lips are typically what come to mind when one thinks about holiday makeup, but ever since I first spotted the Christmas tree brow trend, I can't get it out of my head. It's as if classic holiday glam is no longer enough to assuage my festive desires, and I've found myself faced with an "all-or-nothing" approach. Lean in to Christmas tree brows, or consider yourself a Grinch in my book.