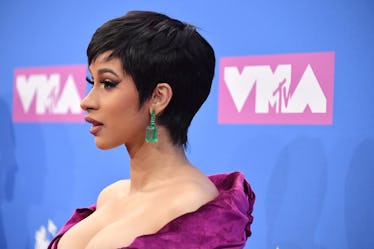 Cardi B Just Made A Major Hair Change Featuring An Unexpected Pastel Shade For Fall
Mike Coppola/Getty Images Entertainment/Getty Images
After keeping things low-key (well, not really, but for her, at least!) during her pregnancy, new mom Cardi B has been absolutely slaying it on the 'Gram and IRL as of late, whether she's been strutting her stuff on the red carpet or serving looks at Fashion Week. Out of all her recent slays, though, my favorite has to be Cardi B's new lavender hair, which made an appearance for one day and one day only, but will have a lasting impression on my viewpoint regarding pastels for fall.
What once seemed unthinkable now feels totally necessary — in a matter of two internet-breaking Instagram posts, Cardi B has made pastel purple cool for fall. On Sept. 26, Cardi posted her outfit for a performance at French brand Etam's Paris Fashion Week show, which featured a fresh-off-the-runway lavender trouser suit by Christian Cowan. You'd think a purple suit complete with vibrant ostrich plumes would be the most mouth-dropping part of any ensemble, but Cardi does everything in excess, which is why I'm not at all fazed that she chose to pair the stunning suit with ample cleavage, statement diamond earrings, and side-parted strands in the most perfect, muted shade of lavender that I've ever seen. My preteen, impulse-dyed, Hot-Topic-inspired purple strands could never.
Here's Cardi and her lavender lewk, making all the traditionally colored ostriches oh-so-jealous:
Here's her suit on the runway the exact same day, posted by designer Christian Cowan. Only the best for Cardi B!
With a statement suit so major, it was only fair that Cardi's hair game be on point as well. She's done everything from an knee-skimming blonde weave to the shortest of black pixie cuts, so it only makes sense she go all the way and match her shade to her ensemble.
Judging by the way she runs her hands over her strands in her video, it's safe to say Cardi is as obsessed with the lavender shade as we are. She's clearly feeling herself!
I've never even considered rocking pastels for fall, so unlike florals for spring, this look is totally groundbreaking. At least, I thought so, until Twitter pointed out how similar the all-purple ensemble was to one worn by Nicki Minaj, Cardi's current frenemy. (Or perhaps, full-on enemy?)
Earlier this month, Nicki did indeed pair a purple dress with ombre, lavender-to-purple hair styled in wet-look waves — and keep in mind, she rocked this look just days before the duo reportedly fought during New York Fashion Week.
Safe to say, Twitter users took note of the similarities, and were less than thrilled at the thought of Cardi potentially copying Nicki's lewk:
To be clear, Nicki Minaj doesn't own lavender hair — but considering the two's major feud, I guess it could be considered a little fishy that Cardi decided to pull out an all-purple look of her own so soon after Nicki flaunted hers. Maybe she just really fell in love with those feathers on the Christian Cowan suit? Either way, both stars have managed to convince me that this hue is now officially fall-appropriate, and I'm starting to think the awkward purple dip dye I had in my teenage years was totally ahead of its time.