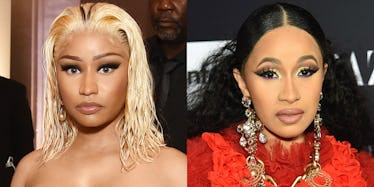 Nicki Minaj Liked Tweets About Her Reported Fight With Cardi B That Are Interesting
Bryan Bedder/Dimitrios Kambouris/Getty Images
Happy Monday, everyone! If you took a little social media break this weekend to ~clear your mind~, oh boy, did you miss a lot. Cardi B and Nicki Minaj reportedly got into a fight at a New York Fashion Week party. It was a mess. And it remains a mess. Cardi B posted on Instagram with a post directed at Minaj about the altercation. So far, Minaj hasn't said anything back, but Nicki Minaj's response to Cardi B and their reported fight might be found in her Twitter likes.
The reported fight went down at the Harper's Bazaar ICONS party on Friday, Sept. 7. There's footage of their altercation online showing Minaj keeping her distance and Cardi shouting profanities at Nicki. The "Bodak Yellow" singer even threw her shoe at Minaj at one point. But it all apparently started inside the party and those are the moments we haven't seen, meaning we can only speculate based on rumors as to what started the fight. Most rumors about the fight say that Nicki Minaj said something about Cardi's parenting skills at some point and, apparently, something about her 2-month-old daughter, Kulture. (Cardi addressed this in her Instagram post about Minaj following the fight.)
Minaj (who has a new episode of Queen Radio airing today... gird your loins), hasn't tweeted or posted anything to Instagram in direct response to her and Cardi's reported fight. But look through her likes on Twitter and you'll see she hasn't quite kept her opinions to herself.
She has liked tweets about the beef by fans.
One tweet Minaj liked claimed it would be unlike her to speak badly about a baby. "Nicki would never talk about a innoncent child. But just like sis said Y'all paint her out to be the bad guy."
It's not clear what started the reported fight, but Cardi did leave it with a huge welt on her forehead, and the videos of the moments after the fight are intense. So if anyone doubted Nicki Minaj and Cardi B had beef before this weekend, the record has been set straight.
Cardi B's Instagram about Nicki Minaj called out the rapper for reportedly insulting her parenting skills.
It started with, "I've let a lot of sh*t slide! I let you sneak diss me, I let you lie on me, I let you attempt to stop my bags, f*ck up the way I eat!" Cardi continued later in the post, "But when you mention my child, you choose to like comments about me as a mother, make comments about my abilities to take care of my daughter, is when all bets are fuckin off."
In response to one of Minaj's fan's tweets saying she never talked about Cardi's parenting skills, one Cardi fan posted a video of what appears to be a screen recording of tweets Minaj liked. Some tweets were about Cardi's parenting skills.
But then another fan posted screenshots of Cardi B's alleged tweets that appear to come for people's kids and parenting skills, presumably highlighting a level of hypocrisy in her reasoning for being upset with Minaj's comments (if she even made the comments Cardi claims she did).
This whole thing is a damn mess.