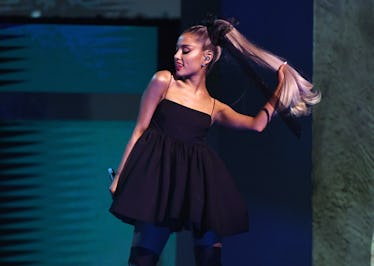 Ariana Grande's New Hair Color Is A Show Stopper & Now I Want It Too
Ethan Miller/Getty Images Entertainment/Getty Images
There's no better way to kick off summer than with a fresh cut, and pop princess Ariana Grande certainly has a lot to look forward to in the upcoming months. Well, this photo of Ariana Grande's lavender hair is proof that she's ready to embrace her new chapter to the fullest. Yes, queen.
On July 18, Grande took to Instagram to share a photo of her completely stunting with her new look. In the photo, Grande flaunts her freshly dyed lavender hair and it's clear she's feeling herself. Honestly, who can blame her? Grande's bubbly personality basically begs for a pastel inspired aesthetic, and lavender clearly suits her perfectly. I don't know about y'all, but I'm itching to book a hair appointment myself.
Grande's lavender locks were clearly inspired by her music video for her second single "God is a Woman," which was released on July 13. The pastel purple color was prominently featured throughout the video, and clearly Grande liked the aesthetic so much she decided to incorporate it into her own style. A part of me is upset that it took her so long to take this personal leap, but now that she has I can't imagine her hair looking any other way.
Just look at this and try not to get jealous.
Ariana Grande may be known for her high notes and incredible performances, but her talent isn't the only thing that makes this pop figure stand out. Grande has earned quite a reputation for her unique and iconic hairstyles, from her high ponytails to her recent hair treatments. In June, Grande unveiled a platinum blonde head of hair to promote her upcoming album, Sweetener, which will be released on Aug. 17. From brunette, to redhead, to platinum blonde, and now lavender? This is literal proof that Ariana Grande can own absolutely any look you throw at her.
For me, there's nothing I love more than seeing a woman rock her style with confidence. However, being such a public figure, Grande is obviously going to be subjected to a hater every once in awhile. On July 18, Grande's stylist Mimi Cuttrell posted a sweet photo of the pop princess walking hand in hand with her fiancé Pete Davidson. Well, instead of commenting on how heartwarming the photo was, one user instead decided to comment on Grande's appearance. A user wrote "I'm sick of that ponytail," underneath the photo of Grande and Davidson — but never fear everyone, because this "No Tears Left To Cry" singer had the perfect response to that shade. Sometimes it's hard not to fight fire with fire, but instead of putting that internet troll on blast, Grande simply replied "I'm not" to the user's comment. Cue mic-drop.
Every celebrity needs a signature style, but it's cool to see that Grande isn't trying to fit into a one dimensional mold. She's made it clear that she has no interest in haters' opinions, and that confidence just makes me love her even more.
I'm so excited to see what the next few months have in store for Ariana. In the meantime, I'll be searching for the hair salons closest to me.