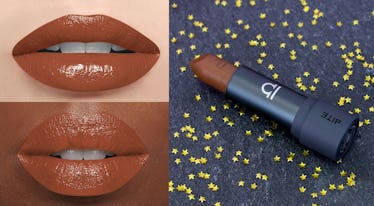 Bite Beauty's Libra Lipstick Doubles As The Perfect Fall Nude For Every Skin Tone
If you aren't familiar with the zodiac sign Libra, the first thing to know is that it's all about balance. This is somewhat ironic, considering I will most definitely have to balance BITE Beauty's Libra Lipstick atop an already enormous pile of lipsticks I impulse bought this year because, hey, they're all gorgeous in their own, unique ways. This one especially so, since each of the Astrology by BITE Amuse Bouche Lipsticks is a limited-edition, super-special shade designed with a certain zodiac sign in mind.
Libras are born between September 23 and October 23 of each year, so if your birthday falls within that timeframe, listen up, because I'm about to sing your praises. Libra is an air sign, as well as the sign of balance, and Libras are ruled by Venus, the planet of love. All in all, this results in Libras having balanced, loving character traits: they get along with lots of different people, serve as mediators when necessary, and are more often than not quite the social butterflies. And as any social butterly knows, it's easy to develop a 24/7 schedule filled with places to go and people to see, so it's no surprise that BITE Beauty created a shade for Libras that could suit any situation. The Amuse Bouche Libra Lipstick ($26, bitebeauty.com) is the latest in the Astrology by BITE collection, which launches a new lippie for every zodiac sign as the year goes on, and it's described as a "balanced medium brown" that's suitable for all skin tones.
Super flattering and versatile, no? They aren't kidding when they say this shade would look good on anybody:
The shade also works well with the Libra birthday months of September and October, since a deep brown nude is a must for fall. Personally, I'm not a Libra (Team Pisces! Water signs FTW!), but I can totally see myself rocking this shade throughout autumn. Maybe it might even help me channel that social-butterfly-Libra energy and get out of my comfort zone when it comes to making plans and chatting up people I wouldn't normally approach. Or, perhaps people I might not normally approach will approach me to compliment my new lipstick. The possibilities are endless! Consider this purchase officially justified in my head: sorry, Libras, but I'm stealing your shade.
Libras quickly flooded the comments on BITE's Instagram post of the shade to give their expert opinions on how well their sign was represented, and while some felt the autumnal nude might not suit them — even daring to call it too boring for socialite Libras! — most recognized BITE's intention of offering a color that represented balance.
"Great fall color. I would definitely wear this," wrote one commentor, another sharing even more excitement: "This color is everything! I need to order ASAP!" The most important comments of course, were from the true Libras themselves, and many were thrilled: "Yayyyy I've been waiting to see the shade and I was hoping it would be a brown!!! The libra in me is so happy!"
Libra or not, if you're into this shade for fall, you can snag the lipstick on Sephora.com and BITE Beauty's website on September 23. If you're worried about it selling out, you can even pre-order it today on the brand's site. Go forth and rock this balanced nude all autumn long, and keep up with BITE Beauty to see what their next Astrology by BITE shade will be. (Hint, hint: Scorpio season is next!)