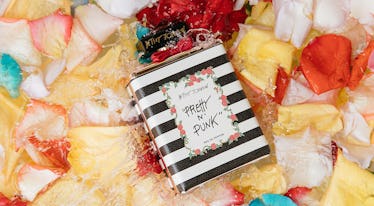 Betsey Johnson's New Pretty N' Punk Fragrance Packs A Nostalgic Punch In A Super Cute Bottle
Courtesy of Betsey Johnson
It's not everyday an iconic brand emerges with an exciting new product, but today is in fact one of those days, so let's celebrate with a big round of applause for Betsey Johnson, because she's back, baby! She's been a household name for style lovers since the 1960s, and now, Betsey Johnson's Pretty N' Punk Fragrance is about to make her just as popular amongst modern-day fashionistas who love a good scent. Before I've even taken a whiff, I already know this perfume is going to be a hit — it's got everything a good product needs, from the chic, fun packaging to Ms. Johnson's stylish stamp of approval.
I have to get this off my chest now, or it will bug me for the rest of this article: Once, I saw Johnson walking around the streets of NYC with her grandchildren, and it was honestly the cutest thing ever. I was too shy to say hi, much less take in what she smelled like, but I feel confident declaring that, had she been wearing this new fragrance, she probably smelled pretty damn good.
Without ever actually meeting her beyond my street style spotting, I feel like Johnson and her brand played a major role in my youth: I wore the most gorgeous hot pink and black lace dress of her design to my eighth grade Father Daughter Dinner Dance, and had a handful of her quirky, creative accessories on my Christmas list every single year. Now that the brand is back with a new launch, I am both nostalgic and relieved; the latter emotion stemming from my hope that Johnson's new releases would be as great as her former products. Fortunately, this perfume hits the nail on the head.
Behold, the ultra adorable Pretty N' Punk Fragrance:
And of course, the equally adorable Johnson herself, posing with her latest creation:
Inspired by Johnson's favorite things — fruit, champagne, and rock n' roll, I love this woman — Pretty N' Punk Eau De Parfum ($60, betseyjohnson.com) is a unique scent that will appeal to a variety of fragrance lovers, as it's mastered the perfect combination of spicy and sweet, vibrant and sultry scents. The top notes include mandarin zest, pink raspberry, juicy red cherry, Madagascar black pepper, cardamom oil India, and pear, while the floral heart notes consist of gardenia blossom, jasmine flower, red rose petals, trumpet lilly, heliotrope, peony, and freesia give some depth. The fragrance rounds out with base notes of sandalwood, warm amber, praline, white musk, benzoin, vanilla orchid, and patchouli.
I'm hardly surprised that such a creative brand was able to combine so many differing notes and create a scent that utilizes the best of each one. The variety also makes it an appealing scent for various age groups: I'd just as happily gift this perfume to a cousin as I would an aunt. And TBH, when the holidays come around, I'll probably end up doing both, as well as keep one for myself, since I'm nothing if not a hoarder of cute perfume bottles.
Johnson's new fragrance will be available on the Betsey Johnson site as well as Fragrance.net, and I'm crossing my fingers it won't be the only new perfume she treats us to, because seriously, who doesn't need to incorporate a little more fun in their life? To me, this little black-and-white striped bottle seems like a good place to start.