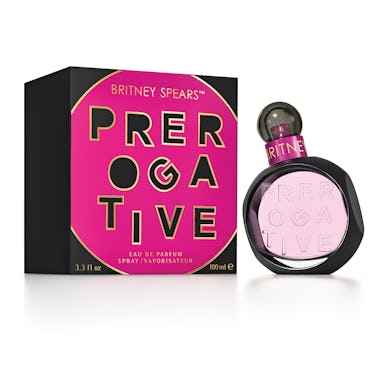 Britney Spears Is Launching A Gender-Neutral Fragrance, So Just Call Her Godney Spears
Britney Spears
The queen of late '90s and early 2000s pop is back once again with her latest venture, and it's something that everyone can enjoy — literally. While the musical icon has mostly focused on releasing women's scents over the years, Britney Spears' new fragrance, Prerogative, is gender-neutral, because everybody wants to smell good. The name of the new perfume is presumably an ode to her 2004 hit cover of Bobby Brown's original track, "My Prerogative." On July 16, the mother-of-two released a teaser for the new product via Instagram with the caption, "Prerogative. A fragrance for all."
The clip, in typical Britney style, was reminiscent of her provocative music videos that were released at the start of the millennium — complete with bright lights, CCTV screens, and a skintight latex ensemble. Of course, her body looked snatched, and her signature blonde locks made quite the statement, twirling back and forth with each new dance move. Clearly, this new fragrance is the perfect representation of feeling fierce, which Spears wants for everyone. ""Prerogative is all about empowerment and confidence - we all deserve to feel free and fierce!" Spears said in a press release.
With her first perfume, Curious, being released back in 2004, Spears is no stranger to singlehandedly taking over the fragrance industry. Over a decade later, the 36-year-old has released over 20 other scents and has banked around $1.5 billion worldwide from her perfume sales alone, according to MTV News.
According to a press release from the brand, Prerogative would be launching this month in Walmart stores and on walmart.com and in August 2018 at Kohl's stores and kohls.com. In fact, fans of the star have already cleared out the shelves at various Walmart stores, eager to get their hands on her latest scent. Luckily, the matching body mist still appears to be somewhat in stock. But at this rate, it looks like if you're dying to wear Prerogative, you'll have to hit up a few different retailers.
If you're wondering what the fragrance smells like and you know you're into scents of amber and wood, you're in luck. According to a press release, "exotic, contemporary notes like Latex Petals and Red Calla Lily weave the refreshing fruit-forward top notes and warm woody base notes into a seamless gender-neutral composition." Basically, this fragrance has all the makings of a deep, sexy smelling perfume, regardless of gender.
As Spears has had so much success with perfumes, it seems as though she's looking to tap further into the beauty world by partnering with Epic Rights to create a haircare line, along with clothing, accessories, exercise gear, and other accessories. "We see this new lifestyle collection as Britney's next step in connecting with her legions of loyal fans around the globe," the performer's manager Larry Rudolph told WWD in April 2018. "Sharing her style and fashion sense through products she has developed is a testament to her authenticity as well as her commitment to and appreciation of the fans that have made it all possible." The line is expected to launch in spring 2019.
But products aside, fans of Spears can catch her live in action, doing what she does best during her Piece Of Me tour. Traveling across North America and Europe, the tour was originally supposed to end on August 24, with a show at London's O2 Arena. But according to the star's website, it seems as though she's adding a new leg of performances, with the finale happening on October 21, in Austin, Texas.
From a new perfume launching to worldwide tours to being a mom of two boys, Spears has to be some type of superwoman to be able to balance such a huge load. Yet, somehow, she's pretty much been making it all look like a piece of cake for over 20 years.