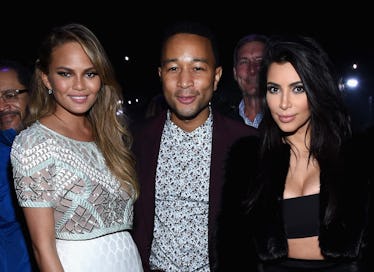 Chrissy Teigen Low-Key Trolled Kim K For Making A Mold Of Her Body For Her Perfume
Mike Coppola/Getty Images Entertainment/Getty Images
There I was, minding my own business, trying to live my life without the temptation to spend any more money. And then, Kim Kardashian goes and teases a new fragrance with a bottle design that's literally A MOLD OF HER BODY. Kim, I have groceries to buy, I can't keep doing this. (But I always will, ugh.) Anyway, after Kim K let the world know that she was molding her perfume bottles after her body, Twitter was ripe with reactions. Chrissy Teigen's response to Kim Kardashian's new perfume bottle, however, absolutely takes the cake.
After much teasing about her new launch, Kim K took to Instagram on Tuesday, April 24, to confirm that the new product would indeed be another perfume for KKW Fragrance, called "KKW Body." Kim also confirmed via Instagram that she worked with contemporary performance artist and known Kanye West collaborator (for his Yeezy fashion shows and films), Vanessa Beecroft. Later, on April 24, Kim also confirmed the concept for the perfume's bottle in an Instagram photo and caption, stating that she and Beecroft worked together to make the perfume bottle a legit mold of Kim Kardashian's body. I swear, I'm not making this up. This is only OK because Kim's doing.
Now, I'm certainly not a fragrance professional, but I'm willing to bet literally anything will smell freaking great if it comes out of a bottle shaped like Kim Kardashian's body. What a stellar marketing tactic.
Once Chrissy Teigen caught wind of Kim's plan, though, she pitched her own idea for a fragrance bottle, and frankly, I think — nay, I know — it would give Kim's bottle a run for its money. On Wednesday, April 25, Chrissy quoted Kim's tweet about her perfume bottle with the most epic idea of all time. (Seriously, Chrissy, if you don't make this, I will... just buy Kim's perfume anyway, but, like, I want one of your body, too, so... please?)
"Well I'm going to put out a COMPETING PERFUME from a mold of my giant body and it will hold TWICE as much perfume as your bottle and the people will get MORE perfume," the model tweeted. ICYMI, Chrissy is currently pregnant and ready to give birth to her second child with John Legend. YAS, CHRISSY. GIVE THE PEOPLE MORE PERFUME.
Anyway, you guys, Kim truly wasn't kidding about the perfume bottle being a mold of her actually body. Later in the evening, on April 25, she took to her Instagram Story to reveal the physical bottle concept. Let's just say, it is... exactly like she described it.
Less interesting than the bottle, but still important when it comes to this perfume is the actual scent of the fragrance (since, you know, it is still a fragrance at the end of the day and not just a mini-Kim K body). Kim tweeted out the top, middle, and base notes we can all expect from the scent:
TOP: Vert de Bergamot, Vert de Mandarin, Baies Rose Orpur, Peach Nectar
MIDDLE: Ylang Ylang Moheli Orpur, Rose Turkey Absolute, Jasmine Sambac Absolute
BASE: Vetiver Haiti Orpur, Sandalwood Australia Orpur, Golden Amber, Musk
Again, I am absolutely not a perfume expert, and I'mma let everyone finish, but KKW Body seems like the best perfume of all time. If you're itching for the release as much as I am, thankfully, you won't have to wait long. KKW Body will be available for purchase on KKWFragrance.com on Monday, April 30, with the price set at $60 for a 100mL bottle. Until then, you can sign up with your email on the site for updates on the fragrance.
I truly never knew I needed a miniature mold of Kim Kardashian's body until she made it an option, and now, I realize I've never, ever needed anything more in my life. Hope all of my friends and family like their Christmas present.