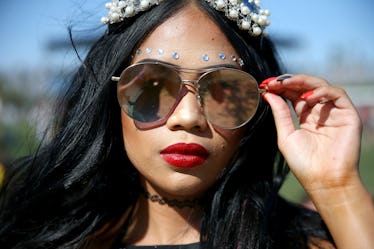 The One Insta Caption That's Meant For Your Festival Pic, Based On Your Zodiac Sign
Rich Fury/Getty Images Entertainment/Getty Images
Is your social media ready for festival season? The flower crowns and bohemian street style are right around the corner — and if you're headed to Coachella and the like, I hope you've started to consider your captions. You've planned your outfit, and know exactly what artists you're hoping to see during your days in the desert. You'll want this weekend to last forever. It's only necessary that you pose for way too many pictures with your crew, too. The stars picked your best Instagram caption for festivals, solely based on your zodiac sign. So, if you're still figuring out your look, you won't have to worry about the likes.
Festivals make for the most fun posts. The lighting is almost always ideal between the sunshine or the vibrance coming from the stage, and the ferris wheel and other carnival rides are such a nice backdrop. What more could you really ask for?
You spent a few summers scrolling through your feed and seeing all of the celebrities come out of the weekend with such cute candids while you were sitting on your couch. Your wanderlust was so real, and you wanted nothing more than to be there experiencing the unreal atmosphere for yourself.
Now, it's your time to shine. You'll be surrounded by music lovers who appreciate all the good vibes and artists you like just the same. So, look to the stars for your Instagram caption this festival season — and your social media game will be oh-so-strong.