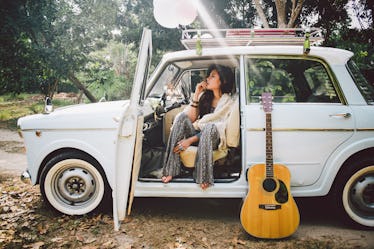 7 Fun Things Every Flower Child Should Do If You're Too Broke For A Music Festival
Stay wild, flower child. You want to go to a music festival so bad one day, but for now, your budget is making it difficult to check anything off your bucket list. The tickets are expensive, and then once you throw in airfare and maybe a cute Airbnb, too — well, suddenly you're breaking the bank. You're just so over hearing your favorite songs just through your headphones, and want to have an experience. Music already creates such an atmosphere, and you can't imagine what it would be like live. If you're too broke for a music festival, don't be too sad. There's still so much you can do that will speak to your flower child soul.
Anytime you put new music on your playlists, you're instantly in a better mood. Road trips, or even just the drive to school, wouldn't be the same without a little Beyoncé, or one of those alternative groups like The Lumineers. Of course, there are the throwbacks that'll forever have a place in your heart. For me, that's basically anything by Akon, or some really old Rihanna songs. They just never seem to get old, and you remember all the lyrics every time.
You could sit at home and scroll through all of the pictures on social media of people in their best festival style, posing against ferris wheel backdrops and all the bright lights. But, these seven things will be a whole lot better if you're a flower child who's just a bit broke.