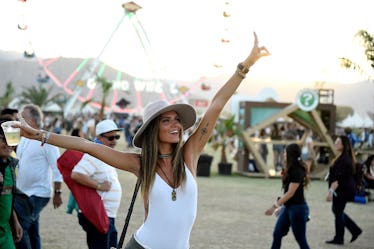 The One Music Festival Accessory You Need, Based On Your Zodiac Sign
Matt Cowan/Getty Images Entertainment/Getty Images
Good vibes only, OK? Festival season has the inner flower child in you so stoked. You're about to be in the most unreal atmosphere, and surround yourself with only the best and brightest in music. You just officially got your tickets last week, but you've been dreaming about Coachella and the like for so long now. And you can finally say you're desert bound with your besties. By now, you've probably already started to plan all of your outfits and picked out some style inspo on Pinterest. Flower crowns are essential, but the best music festival accessories for you have already been decided by the stars.
You want to look like a vision. After all, you'll be posting so many pictures on Instagram so that the experience lasts forever. Throwing peace signs up in the air and posing against ferris wheels and palm trees is so needed, and you're looking to make all of your followers oh-so-proud. This is the one time of the year when you really want to stand out in the crowd. Street style has created such unofficial runways around the world, and cameras will be pointing at your crew just the same.
Amongst all of the packing prep, you've been doing some online shopping and stressing a bit that you'll forget the essentials. A weekend-long trip to the desert means that you'll want to throw a water bottle and maybe even a portable charger in your bag. But, let's get to the accessories you'll be wearing, based on your zodiac sign.