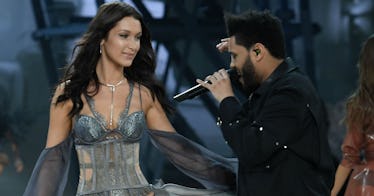 Bella Hadid & The Weeknd Are Officially Back Together, Apparently, & I Believe In Love Again
Dimitrios Kambouris/Getty Images Entertainment/Getty Images
Not gonna lie — a part of me was hoping that now that Justin Bieber is engaged to Hailey Baldwin, Selena Gomez might get back together with The Weeknd. I mean, that would be so cool, right? Then each member of the couple formerly known as #Jelena would be reunited with their other on-again, off-again ex-lovers, and everything would be right with the world. But in a bittersweet twist of fate, it looks like it's not to be, because we have a new update re: Bella Hadid and The Weeknd's relationship status, and it looks like they are officially back together, fam!
Look, I'm not actually super surprised to hear that these two are a thing again, since they've basically spent the past few weeks high-key posting pics of each other all over social media. Hadid even called The Weeknd her "muse"... although it kinda seems like it should be the other way around, but whatevs. Anyway, they may have broken up two years ago, but according to E! News, the couple is now dating exclusively.
"Abel realized once he started dating around, that he actually is still in love with Bella, and they reconnected," a source told the publication. "Things have been going really well. They have been inseparable and have been truly working with each other's schedules to make it work."
But that's actually so sweet, you know? Elite Daily reached out to representatives for both Hadid and The Weeknd for comment, but did not hear back in time for publication. But according to the source, the couple hasn't been apart for more than a few weeks since their rumored PDA sesh at Coachella.
"Abel flies to wherever Bella is working since he had a gap in his tour, and has been very accommodating," the insider explained. "They have been vacationing a lot together as well and spending time together as a couple before he starts performing again. They have a lot of the same friends and their lifestyles really work for them. They both love to see new places and have new experiences and definitely share that commonality."
The pair really does seem to be inseparable. First, they were spotted together at the Cannes Film Festival in May. Then came their dinner together in Paris back in June, and the matching photos of The Weeknd at his Hidden Hills home that they both posted to their respective Instagram feeds in early July.
So sneaky, right? Their posts got a little more bold once they hit up Tokyo, where Hadid shared a bunch of videos of the couple's visit to the Mori Building Digital Art Museum on her Instagram Story, including that epic "muse forever" shot of The Weeknd sitting right in the middle of a waterfall of light — one of the museum's exhibits.
As for The Weeknd, he took to his Instagram story on July 22 to share some party pics from Tokyo, including this one of Hadid, who looks super happy and totally in her element:
I am kind of loving this 2.0 version of Abella's relationship, aren't you?