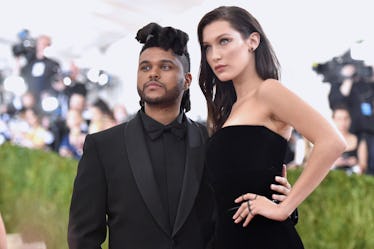 Bella Hadid & The Weeknd Were Spotted Together In Paris, So Romance Is In The Air
Mike Coppola/Getty Images Entertainment/Getty Images
The summer season has officially arrived, and apparently the warmer weather has inspired a rekindled love connection for one very famous former couple. Are Bella Hadid and The Weeknd back together, as I think they should be in my personal opinion? This latest sighting of the duo is making me feel like they are definitely back on, and I honestly could not be happier.
The world has been speculating for months about the nature of this relationship, but this latest spotting of Hadid and The Weeknd makes me think that the deed is done and these two are definitely back on. According to the Daily Mail, the couple was seen in Paris having dinner. In Paris. If there's ever a city to fall back in love in, Paris is the place to be. I mean can this get any more perfect?
Elite Daily reached out the the reps of both Hadid and The Weeknd for comment, but did not hear back at the time of publication.
If you've been living under a rock for the past two-or-so years, let me recap this entire Hadid and The Weeknd situation for you. The lovebirds began spending time together sometime in 2015, and Hadid even appeared in The Weeknd's "In The Night" music video. The two did not officially admit that they were an item (despite many public outings together) until 2016, when Hadid spoke candidly about The Weeknd in an interview with Glamour magazine. She said that her boyfriend (whose real name is Abel Tesfaye) and she had a super low-key relationship, adding that he's just "Abel" around her.
Hadid also discussed the Grammy awards that they attended together that year, and how proud she felt of The Weeknd for winning two of the seven awards he was nominated for, which were for Best R&B Performance and Best Urban Contemporary Album. "It was a big night for him. He has worked so hard, and he did so well that night," she said. "As a girlfriend I wanted to be there to support him. Seeing him so happy when he won a Grammy made me so happy." I mean c'mon, how adorable is that?!
The two proceeded to flaunt their relationship on social media until things took a turn for the worst when they decided to split in November 2016, reportedly due to conflicting schedules. Not long after Hadid and The Weeknd called it quits, he was spotted with Selena Gomez, and the two of them started dating at the start of 2017. The 10-month-long relationship ended later that year and Gomez was spotted spending time with her famous ex, Justin Bieber in October 2017.
But this drama isn't over. In March 2018, The Weeknd came out with a mini-album My Dear Melancholy, in which he appears to sing about his relationships with both Hadid and Gomez. One track off the project, "Try Me," has widely been speculated to specifically be about Hadid. The Weeknd sings,
You're lookin' grown since the last time I looked at you / It might have been, been about a couple months / But I just got the picture that you texted to me / You ain't steady, you look ready to go all the way / If you let me take you down on me
Hadid and The Weeknd have been spotted all over the place over the past couple of months. They were reportedly seen kissing at Coachella in April, they were together in Cannes, France in May, and this latest sighting in Paris tells me that this romance is officially rekindled.
Maybe it was the song lyrics that got Hadid back into The Weeknd's arms? Or maybe they are truly in love and found a way to get back to where they left off, despite the time that they spent apart. There's nothing that I love more than a good love story, so consider me here for this one.