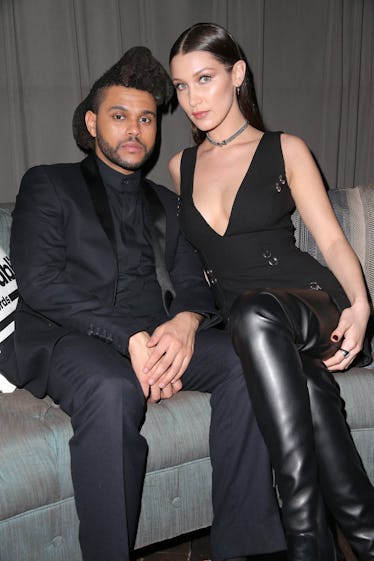 Bella Hadid & The Weeknd Posted Matching Pics On Instagram, So They're Dating Again, Right?
Imeh Akpanudosen/Getty Images Entertainment/Getty Images
When Bella Hadid and The Weeknd broke up, the world collectively assumed love was dead. The sky looked darker, the clouds looked gloomier, and I questioned the true meaning of life. (Yes, I'm overdramatic, don't @ me.) But recently, there's been some pretty persuasive evidence that proves that maybe — just maybe — things are heating up again on an ~official~ level with the former flames. I mean, they were caught locking lips in Cannes and The Weeknd was spotted leaving Hadid's New York City apartment, so honestly, the facts are pointing to a possible relationship scenario once more. And now, we're seeing Bella Hadid and The Weeknd's matching Instagram photos, which basically scream the fact that they're totally seeing each other again — that's what I hope, at least. Let's dive into the deets.
On Monday, July 2, Hadid not-so-subtly showed her fans that she had had a chill sesh with The Weeknd by posting a photo on her Instagram story of her ex standing on the balcony of his Hidden Hills mansion. The photo is dated June 30, so that must have been the date of their meetup. I don't know what's more incredible: the photo itself or the mansion. Actually, I do know. It's the mansion. Below him, his adorable dogs are looking upwards at him, and now I've changed my mind: the dogs are the best part of the photo.
Hadid used my fave emoji (the black heart, because obviously) and posted the shot to her Story:
Now, one could argue a few things. Maybe there was a get together going on. Maybe Bella didn't even take the photo. MAYBE THAT'S NOT EVEN THE WEEKND.
But LOL, because nobody else is around, pretty sure only Bella would have access to her own phone, and it simply has to be The Weeknd because he confirmed it was with basically the exact same photo. Yup, if you go to The Weeknd's Instagram, you'll see an identical shot of himself, his dope ass mansion, and his absurdly adorable dogs, only super zoomed in so you can make him out clearly:
I mean, come on. This HAS to be their low-key way of telling people that things are totally back on between them, right?
If you're not fully on board yet, then maybe this report from Us Weekly will make you rethink things: Bella Hadid and The Weekend were reportedly spotted having dinner together at Matsuhisa in Beverly Hills on Sunday, July 1, where an eyewitness noted that the pair "were snuggled in the back corner" and were "very sweet and laughing/whispering with each other."
Elite Daily has reached out to Hadid's team for comment on the report, but did not hear back by the time of publication.
The eyewitness also said that the on-again, off-again couple were "sitting on the same side of a four top instead of across from each other," which, honestly, infuriates me to no end.
Who wants to move their head uncomfortably to the left or right of them throughout an entire meal? Who wants to stare at literally NOTHING in front of them but an empty chair? The seat next to me is for my precious Old Navy tote bag, so I don't care how cute you are! Please sit yourself somewhere else, thank you very much.
Regardless of their restaurant seating choices, I'm a huge fan of this duo and hope that this means things are starting to heat up again.
It broke my damn heart when the couple split in November 2016, when People reported that "their schedules have been too hard to coordinate" but that "they still have a great deal of love for one another and will remain friends."
It's fine! I'm fine. Everything is fine.
That is until Bella Hadid opened up about her breakup in February of 2017, telling Teen Vogue,
It was my first breakup ... and so public. As an outsider, you might think I handled it so well, but it's always in your heart, and you always feel it very heavily ... It'll be hard for a while. Love hurts, but you have to pull through.
Damn, Bella. Hitting me hard in the feels right about now.
Here's hoping that these two will confirm that they're giving things another shot, because deep down, I'm always, always, rooting for Belleeknd. Or The Bellweek. Whatever, you get the idea.
TEAM HADIDEEKND FOREVER.