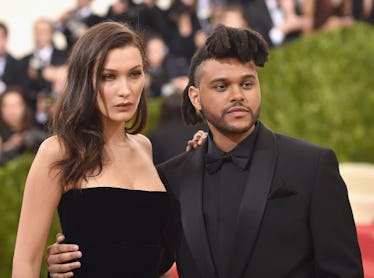 Bella Hadid & The Weeknd Went To Tokyo Together So It Looks Like This Thing Is On
Dimitrios Kambouris/Getty Images Entertainment/Getty Images
If you're on the hunt for proof that celebrities are actually not like us at all, look no further then their love lives. Few celeb couples are better at navigating that complicated terrain than Bella Hadid and The Weeknd, with their apparently endless cycle of dating, not-dating, and being all over social media together. But Bella Hadid and The Weeknd's Instagrams in Tokyo are super cute, so I guess their relationship is on. I sure hope so, because I'm exhausted trying to keep up.
I opened The Weeknd's Instagram stories on Sunday, July 22 to find that he was partying it up in Tokyo at awesome-looking light shows and Pikachu costume party karaoke all with a special guest by his side: Hadid. At first I didn't notice it, but after taking a second look Hadid appears to be in more than few of The Weeknd's posts. There's one video of the pair at the famous Robot Restaurant, a dinner theater type of place with performers in robot and monster costumes equipped with lights and music, and you can plainly see Hadid there next to The Weeknd on the sidelines wearing a white top, laughing and clapping.
Don't trust me? See for yourself:
Elite Daily reached out to representatives for both Hadid and The Weeknd for comment, but did not immediately hear back.
I want you to remember what Hadid is wearing because the next Myspace-fly mirror pic is kind of fuzzy, but it sure looks like The Weeknd and Hadid are hugging. Unless it's some other dark-haired girl wearing another white outfit who also happens to be in Tokyo with him? I mean.
Listen, they have to be together, right? Or are they just acting like a really cute couple who jet sets around the world with each other? Can I just make it official right now and say that The Weeknd and Hadid are a go?
I hope I can, because Tokyo isn't the first time the "couple" was spotted getting romantic in another part of the world. Back in June, Hadid and The Weeknd were spotted having dinner in the city of love: Paris.
But even Paris isn't more official than Instagram. Forget the Tokyo adventures that may leave some room for interpretation (I don't see how, but I'll give it to you anyway), on July 2, Hadid and The Weeknd shared matching Instagram photos. Hadid posted a pic to her stories of The Weeknd standing on the balcony of his Hidden Hills home, and there was a black heart emoji. The blurry photo, taken from far away, made it a little hard to confirm that it was actually The Weeknd. But if Hadid was trying to keep some mystery going, The Weeknd came in and totally blew up her spot by posting the exactly same photo only closer up. Wild, I know!
Maybe one of these things alone doesn't confirm that Hadid and The Weeknd are officially back together, but all of them combined definitely do. They're not exactly doing their best to keep the relationship on the DL. Even if you're not a super professional stan like me, you can see this love in the sky.