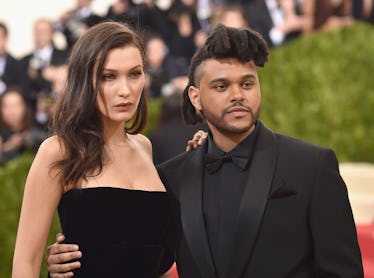 Bella Hadid Shared The Most Romantic Photo Of The Weeknd & It Proves He's Her Muse
Dimitrios Kambouris/Getty Images Entertainment/Getty Images
Bella Hadid is having the time of her life with The Weeknd, it seems. The two on-again, off-again lovebirds spent some time at the Mori Building Digital Art Museum in Tokyo, where they took in the sights of all types of interactive art. Hadid shared a bunch of videos of their museum excursion on her Instagram Stories and even shared a snap of The Weeknd himself. In the caption of Bella Hadid's photo of The Weeknd, she called him her "muse forever," proving that they're totally meant for each other.
In her Instagram Story, Hadid shared a pic of The Weeknd sitting right at the center of one of the museum's exhibits. A waterfall of light cascades over him as he sits confidently, posing for Hadid. It's a pretty sharp snap of the singer and Hadid really knows how to make him look great.
"Muse forever," the 21-year-old model captioned her Insta story. She bookended the caption with two hearts. So sweet! And it really shows how much she adores him.
Here's a look at the photo Hadid shared on her Instagram stories. You can see The Weeknd striking a smooth pose for the camera (not that you'd expect anything else from him):
Hadid and The Weeknd have been dating on and off since April 2015. In an October 2015 interview with Rolling Stone, The Weeknd revealed that his first introduction to Hadid was purely professional.
"I actually asked her to be on the artwork for Beauty Behind the Madness," The Weeknd told Rolling Stone. "My motive was literally to work with her."
Unfortunately for him, Hadid declined, but he wasn't entirely put off by it. "I was like, 'All right, cool — we can meet up face-to-face … It just kind of fell into my lap," he recalled.
Over the next year and a half, the two were spotted everywhere together. They were partying on yachts, walking the red carpet at the 2016 Grammy awards, and even went to the 2016 Met Gala together.
In August 2016, Hadid opened up to Glamour about the relationship and why she decided to go to the Grammy's with The Weeknd, whose real name is Abel:
It was a big night for him. He has worked so hard, and he did so well that night. As a girlfriend I wanted to be there to support him. Seeing him so happy when he won a Grammy made me so happy ... I'm dating Abel. I don't see him as The Weeknd. I'm proud of The Weeknd and the music he makes, but I really love Abel.
After their split in November 2016, Hadid was briefly linked to Drake. Meanwhile, The Weeknd went on to have close to a year-long romance with Selena Gomez. But shortly after splitting from that union, The Weeknd found himself back in Hadid's arms.
The couple rekindled their romance back in April 2018, after reportedly reconnecting at Coachella.
They've been pretty much inseparable ever since. Soon after Coachella, in May 2018, Hadid and The Weeknd were seen in Cannes. Now, Tokyo is their latest stop and it doesn't seem like their romance is slowing down anytime soon.