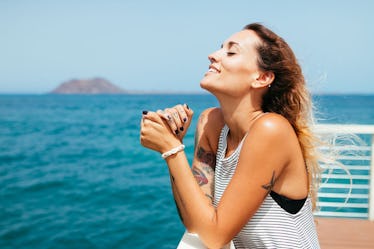 8 Positive Affirmations To Repeat Before Dating In The Summer Months
The truth about dating during the summer is that it's just as tricky as it is thrilling. There's no doubt that come June, there's an inherent sense of romance in the air — plus, thanks to the unparalleled weather, many dating prospects come out of hibernation, and you have so many more options for cute dates. That said, people travel more in the summer, which means you're at risk of falling for someone who's just visiting or looking for a fling. Not only that, but it's tough to maintain momentum when you're dating in the summer months, because you and your potential bae may be in and out of town on trips.
Needless to say, you'll need to adopt a positive mindset in order to gracefully handle all of the hassles that come with dating during the hotter season. The best way to do that, of course, is by integrating affirmations into your daily life. In case you're unfamiliar with this technique, it involves regularly repeating a particular phrase to yourself in order to boost your self-confidence and encourage an overall positive mindset. And who couldn't use a little dose of optimism and a boost of self-esteem when it comes to dating?
While dating in the summer may not be easy, it's all about having the right attitude. Try integrating these affirmations into your life and you'll be primed for a romance-rich summer.