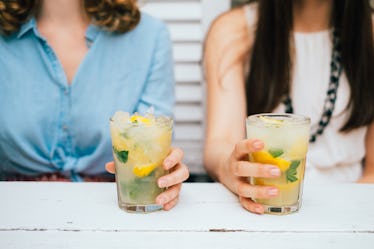 4 Hot, Humid, Sweaty Reasons Dating Is So Much Harder During The Summer
Even at 29.5 years old, well past the days of camp and school breaks, I still find summer deeply intoxicating. The anticipation of it, the smell of it, the amount of adult beverages I justify consuming during it... June through August are the most intoxicating months of the year. And, subsequently, the most hungover (but there's always a dip in the ocean to cure that). Dating during the summer is as intoxicating as the season, but it is also as likely to give you a big fat hangover.
Why is it so hard to date in the summer? The season has all of the ingredients for passionate evenings: clothes that strategically expose several body parts, warm night air prime for romantic walks, and weddings galore that beg for plus-ones. Why, then, does summer always seem to be the season of Sandy-and-Danny hookups, and never the season of, "Here's my new boyfriend, fam!"
For a variety of reasons, it seems as if relationships tend to remain elusive until fall. It could just be that the straight dudes I like to hang around tend to be horny monster Chads who want to sleep with everyone during the summer months, or it could just be that summer, while relaxing, is sort of a hectic time. Next to the December holidays, summer could be the hardest time to go on regularly-scheduled dates. Or, you know, it could be that we're all too sweaty to look cute. Below, here are some reasons why it's so difficult to date with the intention of finding a serious relationship during the summer months.