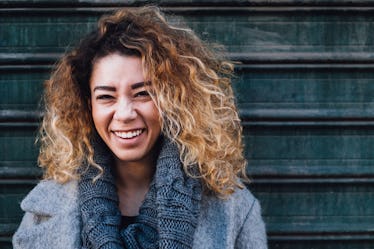 Bringing More Positivity Into Your Life Could Be As Simple As Doing These 8 Little Things
Sometimes when I'm feeling a bit down in the dumps, I do my best Partridge Family impression and sing the lyric "come on get happy" over and over and over again. Granted, that doesn't sound nearly as cool as canceling all my plans for the night to soak my troubles in a lavish bubble bath aesthetically fit for the 'gram, but it does the trick. The way I see it, positivity, like happiness, isn't a destination; it's a journey. You need just as many little ways to bring more positivity into your life as you do glamorous ones, otherwise you're destined to be moody more often than you'd probably like to be, right?
Besides, according to a new paper published in the Journal of Experimental Psychology: General, people tend to become more positive as they get older. Now, in theory, that sounds well and good, but TBH, it's also really heartbreaking if you think about it. I know myself, and I definitely would have assumed the opposite: that the older you get, the less positive you become, due to the overwhelming amount of responsibilities that #adulting entails. But science rarely steers the universe wrong, and researchers from McLean Hospital's Laboratory for Brain and Cognitive Health Technology have found evidence that suggests adolescents are less positive than middle-aged or older adults. IMO, we can do better, friends.
For their experiment, per McLean Hospital's official press release on the study, researchers tested the emotion sensitivity of about 10,000 participants, aged 10 to 85 years old. Study subjects were shown a series of images of faces via TestMyBrain.com, and were asked to identify how the person in the photos was feeling (angry, happy, or fearful). The goal was to figure out which age group was able to a) accurately identify how someone's feeling, and b) how the participants responded to each of these different facial cues.
After analyzing the participants' interpretations of the images they were shown, the researchers found that, overall, as you get older, you tend to become less sensitive to negativity; in other words, negativity just doesn't really affect you as much once you've nailed the whole #adulting thing. And according to Caroline Maguire, certified executive function and life coach and author of the book Why Will No One Play With Me? (who was not involved in the current study), that sounds about right.
"The more you know about yourself and understand the world around you, the happier you are, because you can anticipate and decode what you need and want," Maguire tells Elite Daily over email. "As Shakespeare said, 'know thyself.' As we age, we tend to have our personal playbook in hand, so we know what makes us happy, and so we can put the little bumps in the road that life dishes up into perspective."
Of course, that's a whole lot easier said than done, as your early 20s, specifically, can be an absolute whirlwind of a time, often full of changes, transitions, and adjustments. Maguire says this can certainly be daunting, especially because this is the time in your life when you're navigating the future.
At the same time, though, positive thinking can make this transition a little easier. So, to help you out, I reached out to a few experts in the space to share their best tips on how to be more positive. Here's what they had to say.