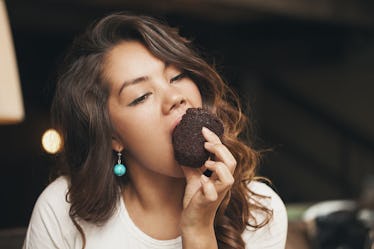 A Dietitian Says These 5 Foods Boost Positive Thinking, So Put Them On Your Grocery List
Whenever I'm looking to boost my mood with a hearty meal, I usually think of delicious comfort foods first, like a gooey lasagna, a fresh-baked cookie, or tacos loaded with plenty of guacamole. And while all of these foods certainly have a place in my life, they aren't necessarily scientifically shown to have any positive effect on the brain or body, besides the fact that they just taste downright delicious. If you're feeling like your positivity levels aren't quite what they usually are, try loading up your shopping cart with some foods that boost positive thinking.
Here's the thing about eating your way to a better mood, though: You can't just eat something once or twice and expect it to immediately have a huge effect on how you feel. Carol Aguirre, MS, RD/LDN, a dietitian/nutritionist based in Florida, tells Elite Daily over email that these superpower foods are most effective when you make them a regular part of your diet. "Select two or three small changes, and practice these until they are comfortable," she recommends. "This will [ensure] long-term success in sticking with your plan, and will allow your brain chemistry time to adjust to the new eating style."
So go ahead and fry up some eggs, or sip on an ice-cold kombucha — rest assured, you're taking good care of both your body and your mind.