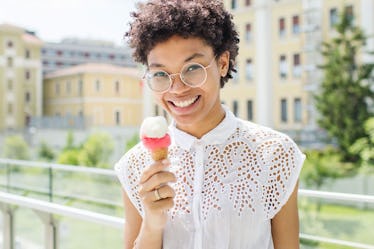 Science Says Your Diet Affects Your Emotions In Big Ways, So Here's How To Eat For Happiness
If you're anything like me, then you've probably fallen into the rut of just grabbing whatever's quick and easy to munch on when you feel hungry, without paying much attention to the nutritional value. But when you're not eating enough vitamins or getting the nutrients your body needs, new research suggests it can take a serious toll on your mental well-being. See, the foods that make you happy aren't just the ones that make your mouth water; according to a new study, they're the ones packed with the good stuff your body really needs, like vitamin D, protein, etc. Of course, there's room for all of these things in a balanced diet, but it's worth knowing which foods your body's truly craving to support your emotional well-being.
The new study, which has been published in the scientific journal Nutritional Neuroscience, anonymously surveyed over 500 men and women through social media about both their general well-being and their eating habits. According to ScienceDaily, the researchers discovered a link between nutritional deficiencies and poor mental well-being. Specifically, in what seems like a bit of an unfair twist, the survey's results revealed that women's mental states are more deeply affected than men's by the nutrients in their diets.
"These findings may explain the reason why women are twice more likely to be diagnosed with anxiety and depression and suffer from longer episodes, compared to men," lead researcher Lina Begdache, an assistant professor of health and wellness studies at Binghamton University, said in a statement. "Today's diet is high in energy but poor in key nutrients that support brain anatomy and functionality."
So, if you haven't been feeling your best lately and can't seem to figure out the cause, try adding some of these nourishing foods into your diet. But, as always, if you're feeling seriously unhappy, remember that it's best to check in with a health care professional before doing anything else.