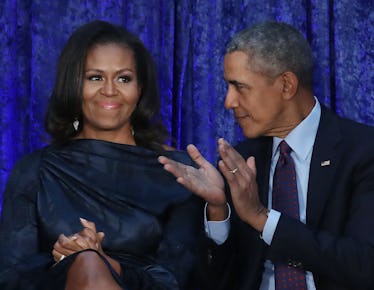 Barack & Michelle Obama Wrote A Letter To The Parkland Students & It's So Inspiring
Mark Wilson/Getty Images News/Getty Images
It's no secret that the Parkland student activists are making waves across the nation. As these high schoolers continue to fight to end gun violence, more political figures are coming forward to share their thoughts on topic, and that includes the former president and first lady. Barack and Michelle Obama's letter to the Parkland students shows full support of these young voices.
On March 21, Mic obtained a copy of a letter that the Obamas had written to the Parkland students following the tragic Feb. 14 school shooting of Marjory Stoneman Douglas High School, which killed 17 people. The letter is dated March 10 and tells the Parkland students how their strength and recent activism has inspired the former first family.
The handwritten letter reads,
To the students of Parkland —
We wanted to let you know how inspired we have been by the resilience, resolve and solidarity that you have all shown in the wake of unspeakable tragedy. Not only have you supported and comforted each other, but you've helped awaken the conscience of the nation, and challenged decision-makers to make the safety of our children the country's top priority. Throughout our history, young people like you have led the way in making America better. There may be setbacks; you may sometimes feel like progress is too slow in coming. But we have no doubt you are going to make an enormous difference in the days and years to come, and we will be there for you.
Barack Obama Michelle Obama
The letter is truly heartwarming and inspiring. Of course, the Obamas haven't been shy about expressing their support for the student activists through social media channels, especially through Twitter.
It's clear that the Parkland students are making history right now.
Since a former student opened fire on the high school campus, the Marjory Stoneman Douglas students have been dedicated to fighting for gun law reform in America. As a response to the huge problem of gun violence across the nation, the Parkland students have organized a March For Our Lives rally on March 24 in Washington, D.C. Sister marches also planned to take place in tons of other cities across the country, such as New York City and Los Angeles.
The March For Our Lives rally may be an extremely anticipated event, but it's not the first act of protest. On March 14, students, teachers, gun control activists, and more nationwide fought for gun control legislation by walking out of schools as a part of the National Student Walkout On Gun Violence. These walkouts took place in states ranging from Florida to Colorado to Connecticut, but all had the same mission: to end gun violence in schools.
Protests may be at the center of activism, but it's really the inspiring students who have helped make all this change happen. They've made it clear that they have no intention of being silenced. These Parkland high schoolers have gained national attention from the public for their strength and persistence, but they aren't done yet.
Among them is Emma Gonzalez, a Marjory Stoneman Douglas high school student whose passion for activism has become so strong she's considered deferring her first year of college, according to an interview with Buzzfeed. On Feb. 17, Gonzalez delivered an inspiring speech during a gun control rally in Fort Lauderdale, which called out Congress for ignoring the need for gun control reform.
Student journalist David Hogg has also openly criticized lawmakers that fail to pass gun reform laws during a CNN interview. In fact, while hiding with his classmates in the classroom during the tragic shooting, Hogg reportedly pulled out his phone and interviewed his classmates about their feelings during the current situation.
"I thought to myself, if I die today, I want to show these people exactly what's going on when these children are facing bullets flying through classrooms," Hogg told CNN's Alisyn Camerota on Feb. 15.
The students' hard work hasn't gone to waste. As political figures and celebrities join the fight to end gun violence, these high schoolers' mission is only looking more and more likely to succeed.