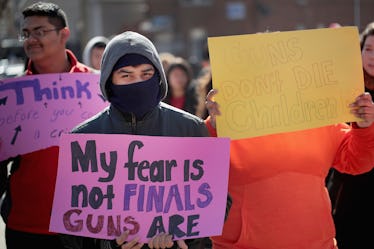 Here's When The March For Our Lives In Los Angeles Starts, So Mark Your Calendars
Scott Olson/Getty Images News/Getty Images
In the wake of the Parkland school shooting that resulted in the deaths of 17 people on Feb. 14, mass amounts of student-led protests have occurred around the world to demand an end to gun violence and an increase in school safety measures. March For Our Lives, perhaps the most momentous march of all, is a major protest that'll be happening in various places around the world. But specifically, March For Our Lives Los Angeles will include a lineup of guest speakers, live performances and even visits from some pretty big names, including Amy Schumer and Yara Shahidi. So when does the March For Our Lives LA start? Here's everything you need to know.
March For Our Lives Los Angeles will take place at 9 a.m. PT at 603 South Spring Street, at the corner of West 6th Street on March 24, according to the march's website. Attendees will trek through the downtown area to City Hall before heading to Grand Park for the rally. According to a Facebook page for the march, more than 14,000 people are planning to attend, with another 30,000 interested in going. But if you're interested in something less crowded, Thrillist added that there are smaller marches planned in places like Santa Monica, Burbank, Santa Clarita, Studio City, Manhattan Beach, and Long Beach. The catch is that the start times may differ, so you'll want to plan accordingly. You can find a local march on the March For Our Lives "Sibling March" search page.
Some pretty big names are expected to attend the event.
Aside from Schumer and Shahidi, other stars such as Olivia Wilde, Connie Britton, Charlie Puth and Skai Jackson will stand in support of the protesters on Saturday, according to USA Today. Shahidi said that the protests "inspired and motivated" her to get involved in the calls for increased school safety precautions. "We are witnessing our generation, actively come together, in a global conversation, demanding action from lawmakers to invest in and assure our right to safety," she said in a statement. "I am inspired and motivated to continue to contribute through action."
And that's not the only way celebs have chosen to support the protesters: George and Amal Clooney, Oprah Winfrey, and Steven Spielberg have pledged to donate $500,000 each to March For Our Lives, according to CNN.
The "time" is finally upon us.
After the shooting at Marjory Stoneman Douglas High School in Parkland, Florida on Feb. 14, students around the globe banded together to call for reformed gun control laws. Some met with their local politicians, and others even met with President Donald Trump to amplify their concerns and demand that something be done to put an end to school shootings. But some people declared that the days immediately after the Parkland shooting wasn't the "right time" to talk about gun reform, which prompted Marjory Stoneman Douglas student Cameron Kasky to come up with a more "appropriate" time: March 24. Kasky told ABC News,
People are saying that it's not time to talk about gun control. And we can respect that. Here's a time. March 24th in every single city. We are going to be marching together as students begging for our lives.
As a result of Kasky's message, a string of protests have been organized around the country, including the National School Walkout, but the March For Our Lives protest which survivors and activists have organized for March 24 looks like it could have the biggest impact. A mission statement for the Los Angeles march reads,
We will join Florida school shooting victims along with the rest of the country in this historic nationwide call to action. The epidemic of school shootings must end now! Join thousands [across] the nation working together to bring these deadly mass shootings to an end. This march will be led by students, by the youth, by our future leaders.
If you're able to attend the march, you better mark your calendars. You surely won't want to miss this.