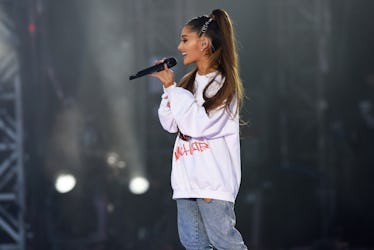 Ariana Grande Just Posted What Her Natural Hair Looks Like & I Had No Idea It Looked So Cute
Getty Images/Getty Images Entertainment/Getty Images
Yes, Ari's pony is more famous than I could ever hope to be, but to be clear, it wasn't her OG look. If you've ever wondered about Ariana Grande's natural hair, a major throwback photo just went viral on Twitter, showing Ari's strands in all their curly glory. Way before she went for long, sleek, and shiny, it seems Grande was a fan of a short, cute, and curly look, and while I stan the ponytail, I low key wouldn't mind seeing the pop star with her natural hair texture on full display.
TBH, I've gotten so used to that long, swishy pony, I almost forgot it wasn't always the star's signature look. Let's not forget her ~fun~ red locks as Cat Valentine on Victorious, people! That was a huge look, and I almost (but fortunately did not) DIY'd it back in the days of my impressionable youth! It's safe to say Ari has always been a hair icon, and now the secret's out that she's been serving looks since way, way before she was a Grammy-winning recording artist. Leave it to Twitter to reveal Grande's natural curly locks, by way of a found newspaper clipping.
Behold: Toddler Ari with the cutest curls you've ever laid eyes on:
"if i'm honest ..... this is still exactly what i look like without lashes and my pony ..... anyone who knows me knows me knows," Grande wrote on Twitter, joking that at age 25, she still looks fairly similar to her 5-year-old self. There's no denying that she was adorable then and is gorgeous now, but Ari, I really don't think I would've known this was you if I had to play "Guess The Celeb!" Those sweet chubby cheeks have been replaced by a fierce contour, and TBH, I didn't even know she had naturally curly hair.
Fans called her out on claims that she looks the same now, and she provided cold hard proof by way of a video of her curls:
She was right — 20 years has nothing on a good head of hair:
"they gotta grow first ! that blonde last year ........ tarnished. BUT they're like halfway back. :)," said Grande of why her curls were closer to waves, but regardless, they look bomb, and her fans ate them up.
In fact, many even begged her to ditch the signature pony once and for all:
But not before having fun photoshopping the pic of baby Ari:
BTW, if you go to her Twitter profile, you'll notice she's made one of the edits her banner image. If only baby Ari knew then she'd be winning Grammys!
TBH, I might be the only person who thinks Cat Valentine red was the best part of Ariana's hair journey, but even I can admit her curls are cute. I love when stars get real and let us she what's going on underneath the extentions! And Grande is beautiful inside and out, so she can rock any look regardless. Still, fingers crossed she says "thank U, next" to the pony and embraces 2019 with a head full of curls.